Handimals – Hand Print Animal Art
Fun, Creative, MESSY PLAY for ESSENTIAL Life Skills

Handimals, or hand print animals are an artistic way to pass the time and have fun as well as encouraging and developing abstract and creative thinking.
Life skills
Being able to "think outside the box" is an important skill in life – as I'm sure you know – and teaching and learning through play has been proven to be hugely effective. So, here we combine the two! The challenge is how to turn a simple hand print into a recognisable animal, or from the other perspective, how to create a recognisable picture of an animal using a hand print. Why not go even more abstract and create some aliens? After all, who knows what they look like!
You should already have most of these supplies in a craft box of some sort, and if you don't, get a stock! Activities like this are great for bonding when you do them together and a brilliant way for children to entertain themselves for short periods too. Plus, you get the "I love you Daddy pictures" they create – and if you're not the resident parent these things are hugely important to your relationship, confidence and motivation.
You'll need: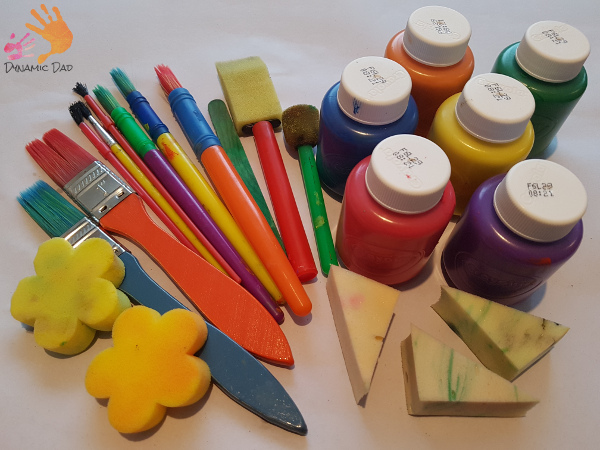 Paper (lots)
Googly eyes (self adhesive, or add PVA glue to the list)
Feathers & other adornments
Pens/pencils
Old towel
Water bucket
Apron/old shirt
(The bucket of water and old towel are for rinsing the paint off between different colour prints – without risking handprints on walls and carpet through the house!)
As an alternative to the above Amazon links, I bought our first round of craft supplies from Wilkinsons & we still use the brushes & some of the sponges today. Cheap makeup sponges from the local 'pound shop' also make for great painting and craft accessories.
Getting messy:

Protect the area! This is intentionally messy play – so wear appropriate clothes and spread a cover over the floor as well as your table or work area. While you could just use a tarpaulin or old newspaper, why not invest in a vinyl tablecloth just for crafts? It's just one more way to make your children feel special – it's their tablecloth for their crafts – and even more so if you get them involved in choosing it. We also use a combination of one of my old t-shirts and a plastic apron to keep whatever it is we're doing off her clothes!
Create some space for your prints to dry – expect to make quite a few and get creative with it, so you'll need somewhere to stash your still-wet paint pictures.
Get inspired! We looked through a selection of 'Handimals' like those below, as well as an internet search for various 'hand print animals', then, we got messy!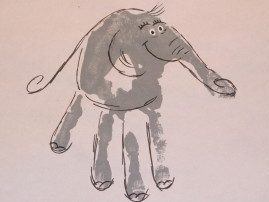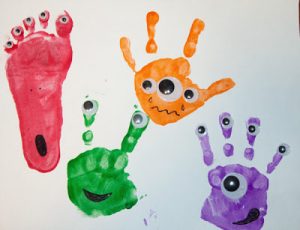 Elephant image credit: TheEnchantedManor.com
Aliens image credit: PuppyDogTails.blogspot.co.uk
Some of the prints we made started with the intention of creating a particular animal – others were just prints for the sake of it and seeing what we could create from them later.
Using the makeup sponges, rather than a large tray of paint, we painted our hands and pressed them onto the paper. Painting our hands first in this way meant we weren't wasting paint, plus we could paint different colours and patterns on our hands for different coloured animals. This was Bean's idea, not mine, and as you can see from the "Monkey" prints, it worked pretty well!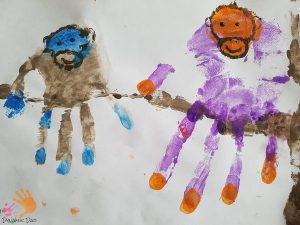 These were a product of just doing it – Bean made the brown and blue print and I saw a monkey. So, I printed mine next to hers, added the highlights and voila – two not exactly brilliant monkeys – but who cares – Bean loved them, and that's what matters. We added the branches with a mixture of finger and thumb prints and painting with a paintbrush.
Whatever you do, encourage experimenting – fingers spread or closed, different colour paints, not rinsing the paint off between prints for a mixed/marbled effect.
Once the prints had dried (or not, in some cases) we added the details to bring them to life, including outlines, googly eyes, surroundings and features. She used sponges, the handle end of paintbrushes, her fingers and even a lollipop stick to paint. I'm sure if I'd gotten pipe cleaners and feathers out she'd have experimented with these too – so I recommend you do, I certainly will next time.
Having a selection of things to use as brushes allowed her to be creative, and joining in meant that it was a real bonding session – not just supervised play. Where possible, try and make a few joint pictures – but not at the expense of allowing them to be creative on their own. This will enhance the bonding experience by working on it together. Finish it off by displaying it proudly – even if it is only on the fridge until you replace it with your next joint venture.
We printed through a lot of paper and paint, and I got a fabulously happy little girl for the first day of our weekend together.
This activity is great for any age as the younger kids will just enjoy the messy play of hand-painting, and older children (including much older children, like me) will enjoy the more artistic and abstract challenges.
Important note:
Even with laying out protection, Bean moved around a lot and to paint and print from different angles – and inevitably some paint made it onto the floor. I also have a yellow line across the back of one knee of my jeans, and no idea of when or how it got there.
It doesn't matter… before you start – advise being careful, but don't nag about it and certainly don't spoil the fun by telling off for accidents & drops on clothes or carpet. You're the parent, it's your responsibility to prepare adequately! Plus, you did use washable paint didn't you? So no harm done. Sponge the carpet and scrub the clothes before you launder them (and check before you put them in the dryer, unless you want the stain to set!).
Have fun creating your own!
Let me know how you got on and share some of your creations…