Tuff Tray Guide & Great Ideas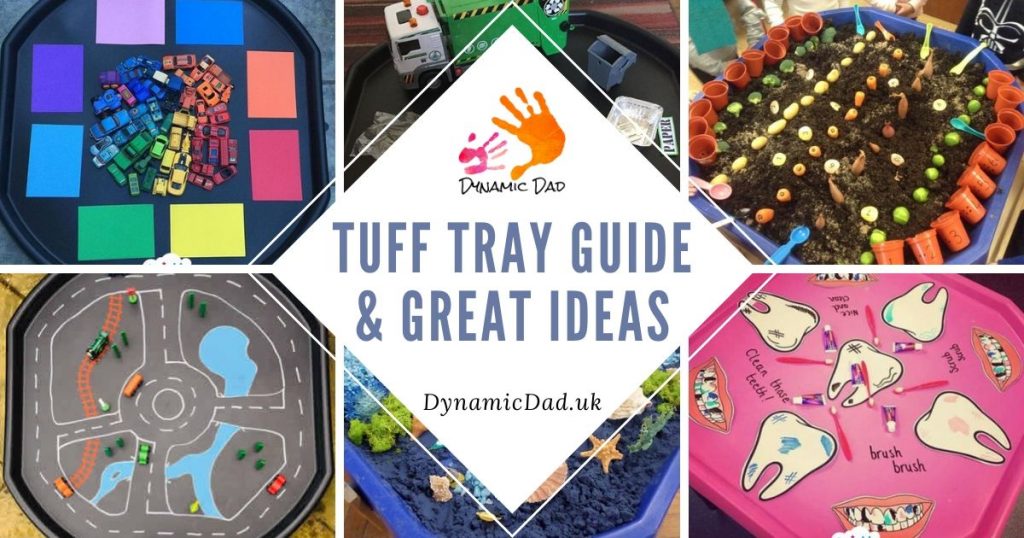 Tuff Tray Guide & Great Ideas
A Tuff Tray, or Tuff Spot, is an ideal all-activity station suitable for use indoors or out and all that your imagination can throw at it!
Sure, they don't look anything special – just a large plastic tray. If they aren't already, tuff trays will be your new go-to for activities and craft with the kids.
Let's take a look at the tuff tray in more detail, some of the best tuff tray ideas, the real benefits to having one and of course when and where to pick one up!
What is a Tuff Tray?
A Tuff Tray is a large, roughly 1 metre (3 feet) square heavy duty plastic tray with corners trimmed to an approximately octagonal shape.
The raised sides make it ideal for messy play activities while the adjustable stand means it can grow as your little people do, change to suit various activities or double as a frame for a den!
The three parts can often be purchased together – Tray, Adjustable Stand and Tray Mat Insert, though you can also buy a variety of tray mat inserts (or make your own). For the inevitable, you can also purchase each piece separately.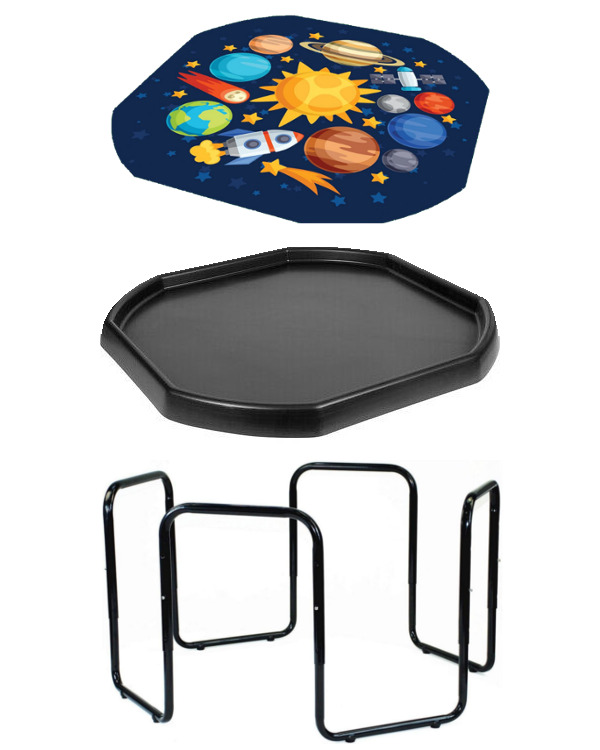 When should I get a Tuff Tray?
As soon as your toddler is engaging in messy play without the need for constant supervision, they're ready!
Tuff Tray activities can be used to develop gross and fine motor skills, sensory play, numeracy, literacy, sorting, role play, imagination and so much more right through to primary school.
Where can I buy a Tuff Tray?
Thankfully there are variations on the Tuff Tray everywhere – including labelled as cement mixing trays at your local builders merchant. However, the ones with adjustable stands and common sized mats to fit are best purchased online.
Of course, you don't have to use a Tuff Tray – you can replicate most of these activities in any suitably sized tray, box or sandpit!
What are the benefits?
First, these resilient Tuff Trays are easy to wipe down or even hose off in the garden. As well as being easy to clean, the raised sides contain most of the mess too, so clean up really is a whole lot easier.
Being incredibly versatile, they can be used for just about any activity, from water play to painting, gardening & cooking.
Mobility – these lightweight and sturdy creation stations can be moved around, indoors & out.
Consistency – everyone needs a place of their own, kids too. By giving them their own Tuff Tray as "their space" they know where they can go to play, create a mess, hide in a den or sticker everything in sight. You know that everything will be contained (mostly) in one place.
Tuff Tray Ideas
Here's a brief selection of ideas from across the internet including messy sensory play, sorting, themed activities, educational ideas, art, dens, home economics and more. The options with a Tuff Tray truly are endless – leave a note in the comments and I'll add your favourites!
1. Colour sorting with cars – develop motor skills, colour recognition, sorting and even counting – from Twinkl.
2. Explore an underground cave with Adventures of Adam
3. Recreate their favourite stories.
4. Make a road, railway or even an airport!
5. Visit and learn about different countries like with Amy's China Tuff Tray.
6. Hunt for treasure – then sort the loot… fine motor, reading and sorting in one!
7. Build a monster messy play.
8. Create a dinosaur park with Rock My Classroom.
9. Make a Mr Potato Head
10. Harvest vegetables
11. Or plant them.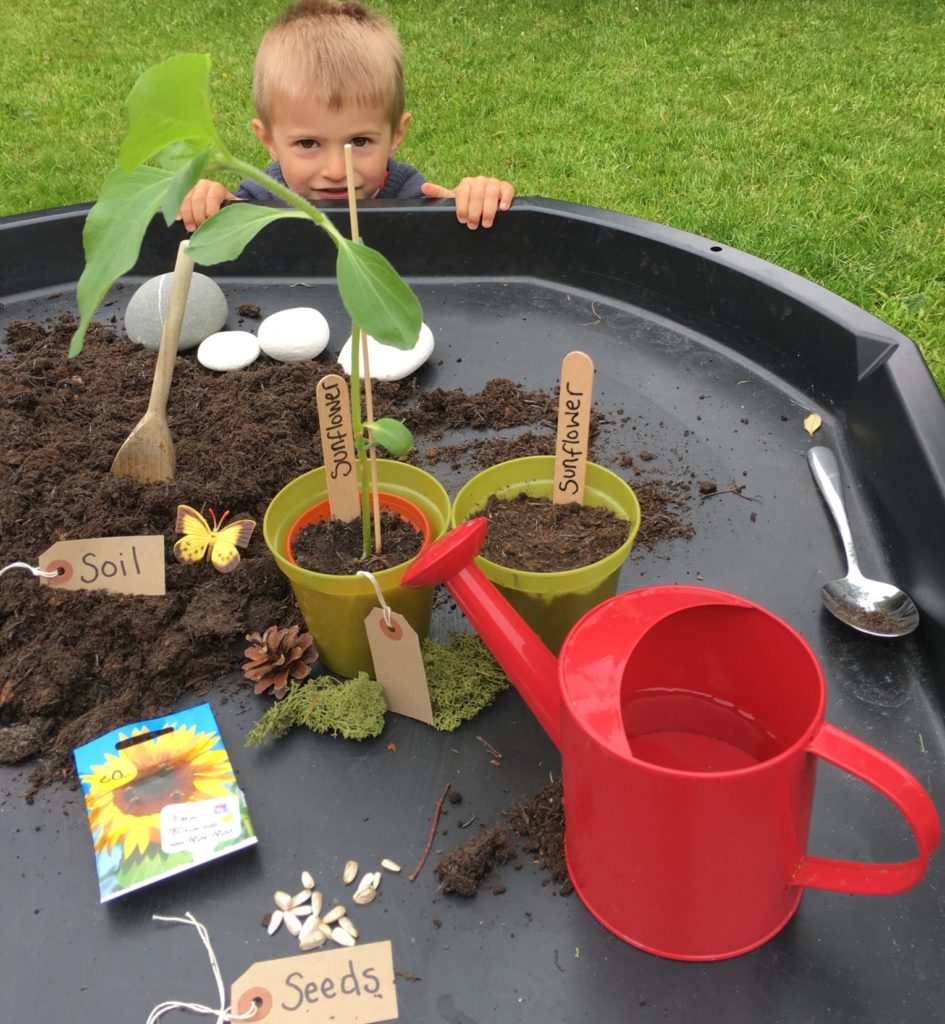 12. Build houses for the Three Little Pigs with Sarah.
13. Explore magnetism
14. Visit the beach
15. Paint blocks of ice – or even dig things out of them.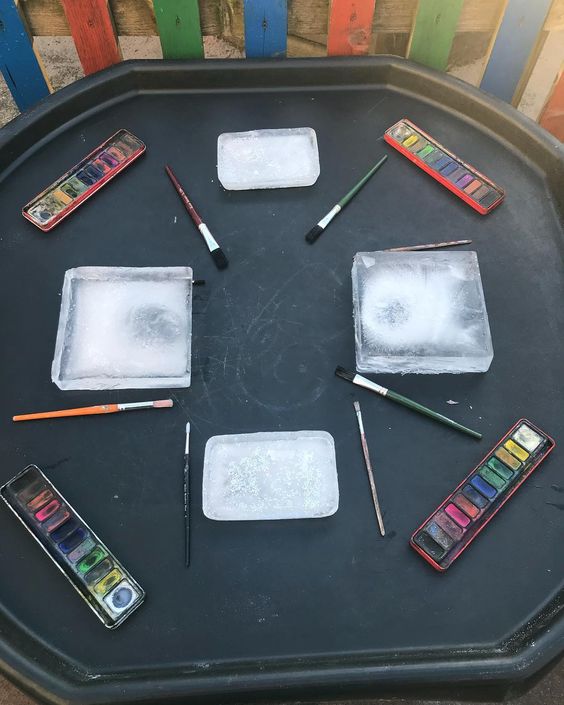 16. Explore reflective objects, shapes and mirrors with The Imagination Tree.
17. Bath time water play
18. Explore gravity with Adventures of Adam.
19. Learn about recycling.
20. Design a Fireworks display.
21. Cook in the mud kitchen!
22. Swim at the bottom of the deep blue sea.
23. Become a bricklayer for a day!
24. Hunt minibeasts.
25. Learn about bees.
26. Brush your teeth!
There are so many different fun and educational Tuff Spot activities, these are just a few ideas to get you started. If you have any you think I should include, drop a note in the comments!