How to get the kids out of bed and WIN the morning routine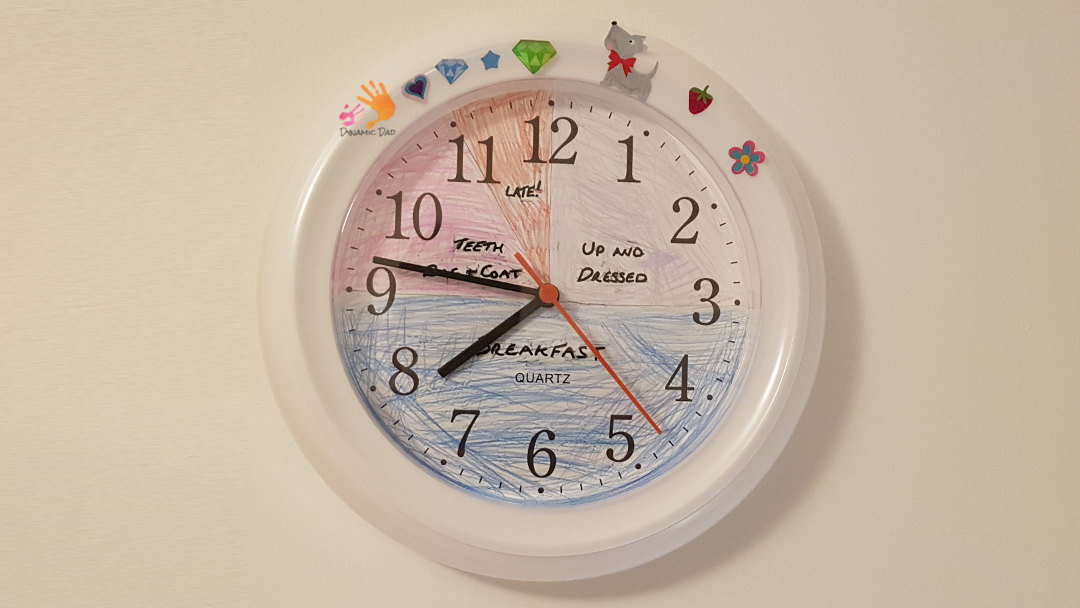 You're probably here because you saw our AWESOME morning routine clock on social media or Pinterest, or because you searched for something like "how to get the kids out of bed in the morning".
So, you want to know how to get the kids out of bed and WIN the morning routine… don't we all!
It goes something like this, right?…
"Good morning sweetie, time to get up"
"Hmmrmpfh"
"It's time to get up now, breakfast's nearly ready"
"Mmmrrrgrrrumph"
"I really need you to get up of we're going to be late!
"I'm tiiiiirrrrred"
"GET OUT OF YOUR BED NOW OR I'LL SEND YOU TO SCHOOL IN YOUR PYJAMAS!!"
"Ugh. You're so mean, I'm telling! It's not fair! I don't love you any more!…."
I'm sure I'm not the only one!
How do I get my kid out of bed in the morning?
Well, after a little (lot) of frustration and a few close calls, we made this morning routine clock together and after a month, it's working brilliantly.
Here's how you can make your own to get the kids out of bed and win the morning routine.
Stop in at your local Wilkinson and pick up one of these – it cost me literally £3.
There are of course other clocks, and other shops, just have a good look at it and make sure you can take it apart as we've done below.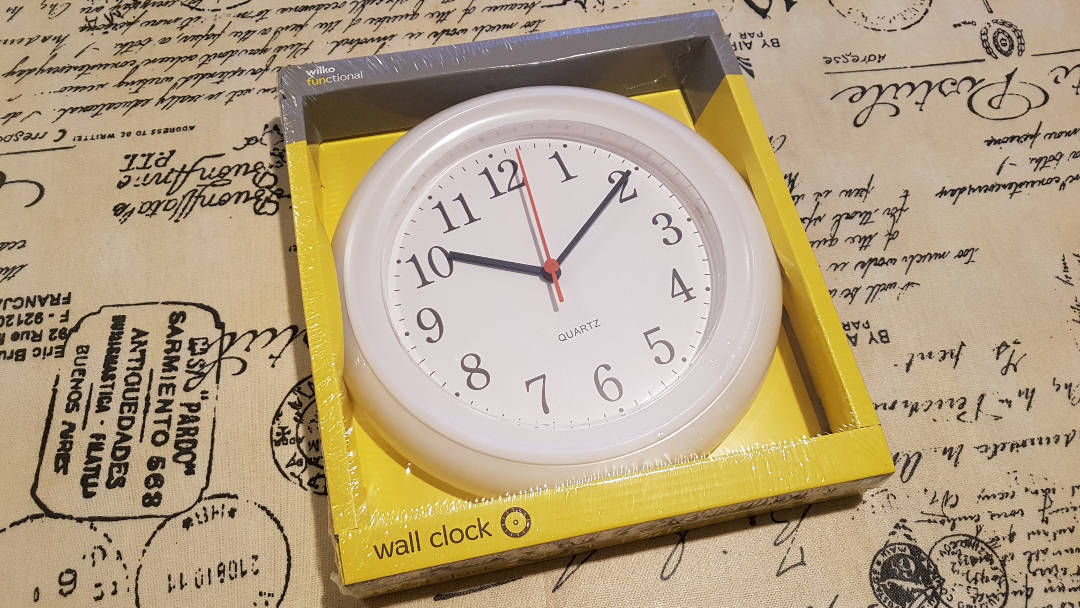 How to make your morning routine clock, get the kids out of bed and WIN at mornings!
Once you've taken it out of the packaging, flip the clock over and look for these plastic tabs on opposite sides of the clock. Push them in and away to remove the clear plastic cover over the face. They do tend to snap back in as you swap sides, I found holding a blunt pencil in the gap helped.
Note the clock face between the clear plastic tab and the white plastic clock – try not to damage this.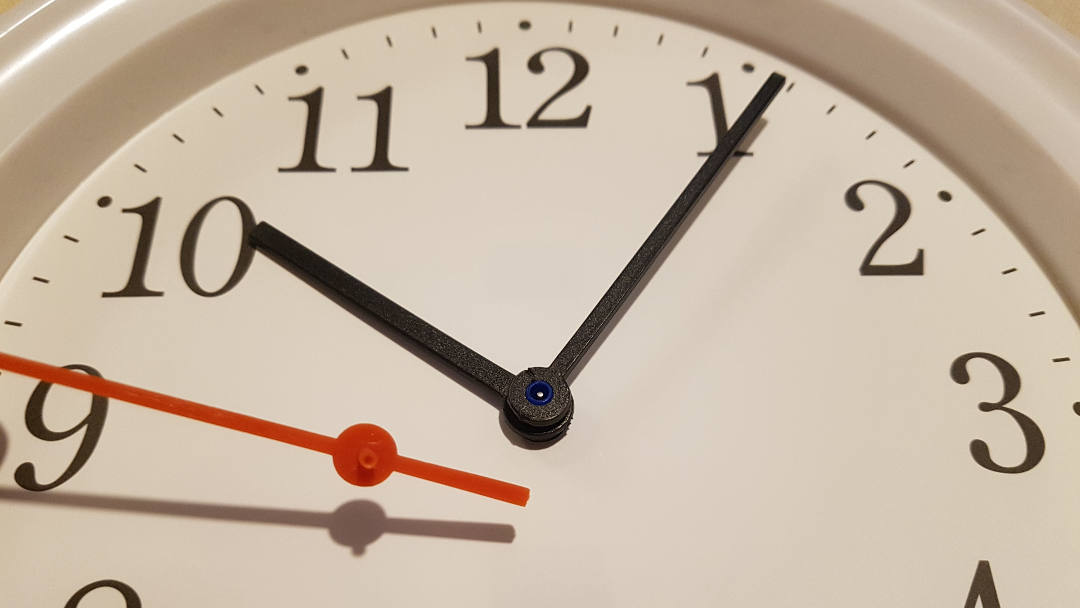 Remove the hands carefully by pulling at the centre. As you can see the second hand pops off a central pin, the other hands sit around the outer shaft.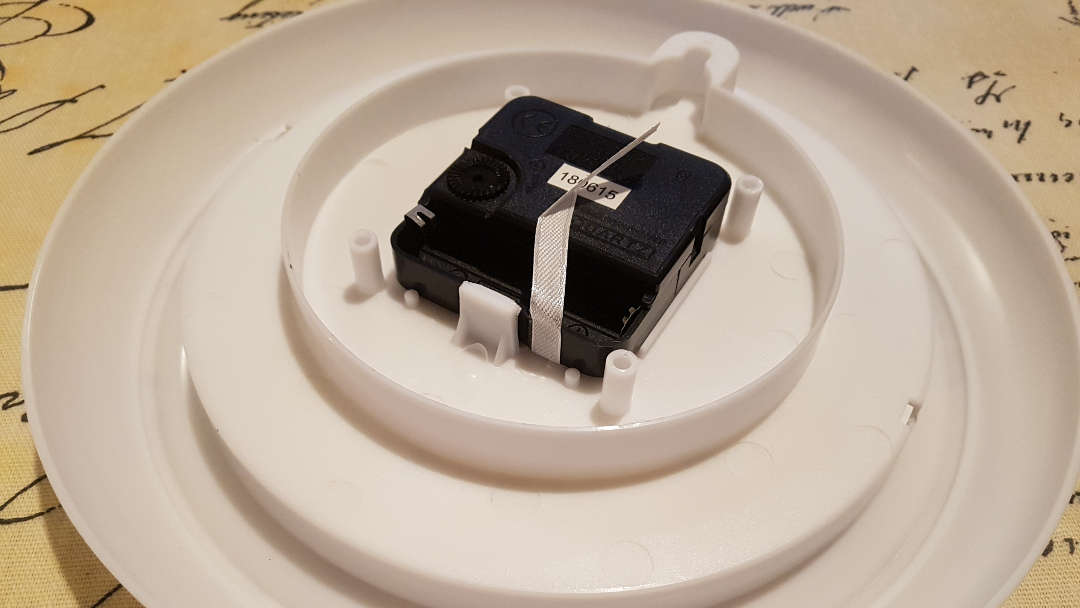 Flip the clock over again and remove the black plastic clockwork mechanism. The two white plastic clips hold it in place, gently prise back and wiggle to ease the mechanism out.
If you do break one, don't panic, you can glue the mechanism back in place later.
WIN the morning routine.
With everything else out of the way you can now add your custom routine!
We did try to remove the clock face to make marking it easier, but it was well stuck down so we resorted to marking and colouring with it in situ.
You, as I did, will already know what times you want certain things done by.
To really make this work, I involved Bean in the whole process (she's 7). She was there while I took the cover off the clock and removed the second hand, I had her remove the easier minute and hour hands.
When this was done and I'd removed the mechanism, we talked about the times involved while we could see the clock face.
I guided her as to what time we really needed to leave to be on time for school, that sometimes there is more traffic than normal and that if we don't leave on time, we're late – I can't just drive faster because the other cars are in the way.
This also gave an excellent opportunity to practice a little maths as well as telling the time; subtracting an hour from start of school, converting quarter of an hour into minutes etc. It's these real life examples that really help children (and adults!) to learn and understand.
Know what makes them tick.
It's really important to understand your child, make allowances, and build in buffers. This is not for you to enforce your will and punish them for non-compliance.
Bean takes an age to eat. I know this, so I've allotted half an hour for breakfast. I'd prefer her to eat faster, but she doesn't, that's not going to change, so I make an allowance for it.
I know she's unlikely to spring out of bed the moment I wake her, so I've allowed 15 minutes for lie-ins.
Brushing teeth, putting on shoes, coat and picking up the school bag certainly shouldn't take quarter of an hour either, but it allows for a buffer, which reduces stress while still getting things done.
We also don't actually need to leave by five to, most of the time, but this is another buffer combined with a psychological "hurry-up". Occasionally if the traffic is bad, it's the 5 minutes we need to get there by the skin of our teeth.
Marking the morning routine.
Once we'd agreed on the times, Bean drew a line from the centre of the clock out. Felt tip didn't work due to the material used for the clock face, so we used a regular HB pencil.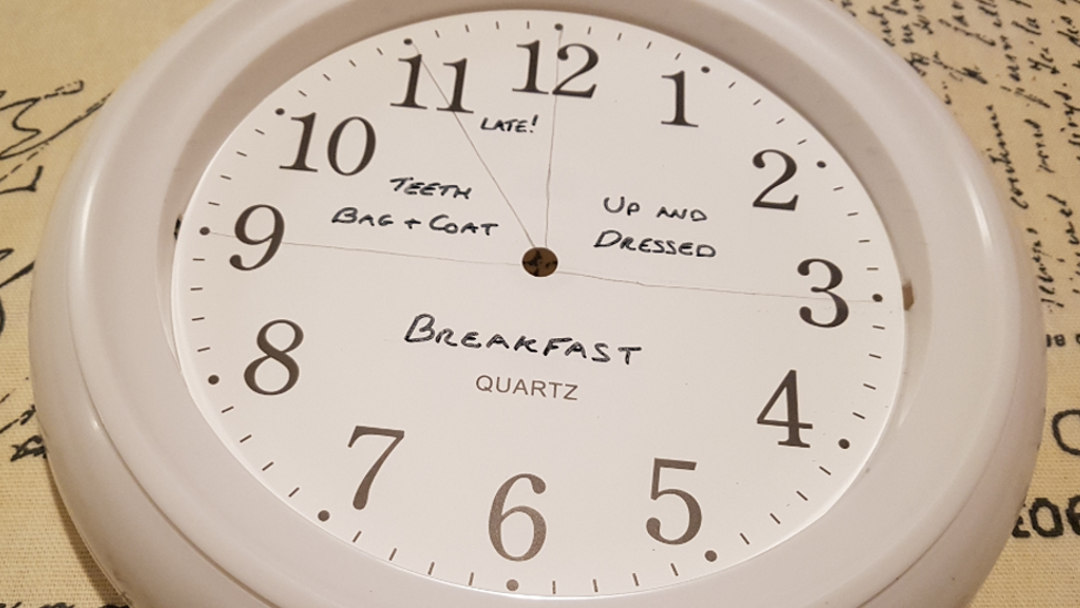 In each quadrant I wrote the applicable task, large and clear enough that she cold read it when the clock was on the wall. With hindsight, I'd have written larger still.
I used permanent marker so that the text would stand out (this one that we use in other projects like rock painting).
I could, and should have written in pencil and allowed her to trace over with the marker. If their writing is clear enough, have them do it!
There's a psychological reason for doing this too – when you write something down, you subconsciously commit to it. Even if you're just copying or tracing over what's already there – you're reaffirming it yourself.
So… get the children to do the writing – and subconsciously commit to the actions too!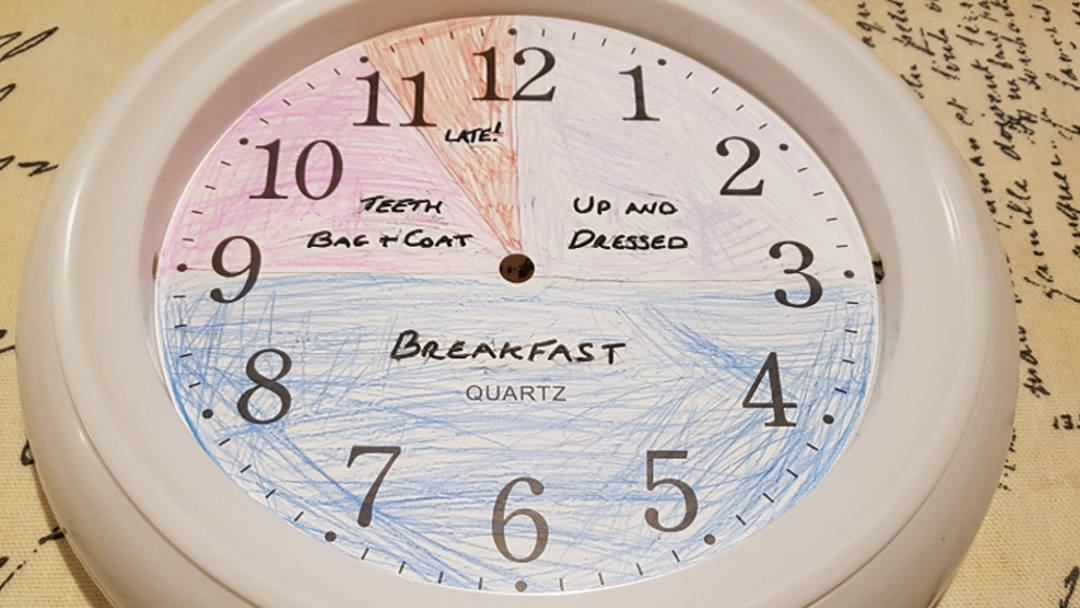 With each quadrant labelled, I handed everything over to Bean to colour in using pencils.
My only stipulation was that the "Late!" section of our morning routine clock was in red, for the colour association of warning/stop/bad.
The rest was up to her.
Putting it back together.
With each section coloured in, putting the clock back together was the reverse of taking it apart.
Refit the clock mechanism.
Refit the hands (hours, then minutes, then seconds) at the 12 o'clock position.
Refit the clear plastic cover, aligning the tabs with the holes.
Set the time and add a battery.
Hang on the wall!
Note: if you don't start with the hands at the 12 o'clock position, you could find that they're misaligned at some point during the day – e.g. with the minute hand on 12, the hour hand is somewhere between two and three, so what time is it? They find it tough enough to tell the time without the clock being off kilter.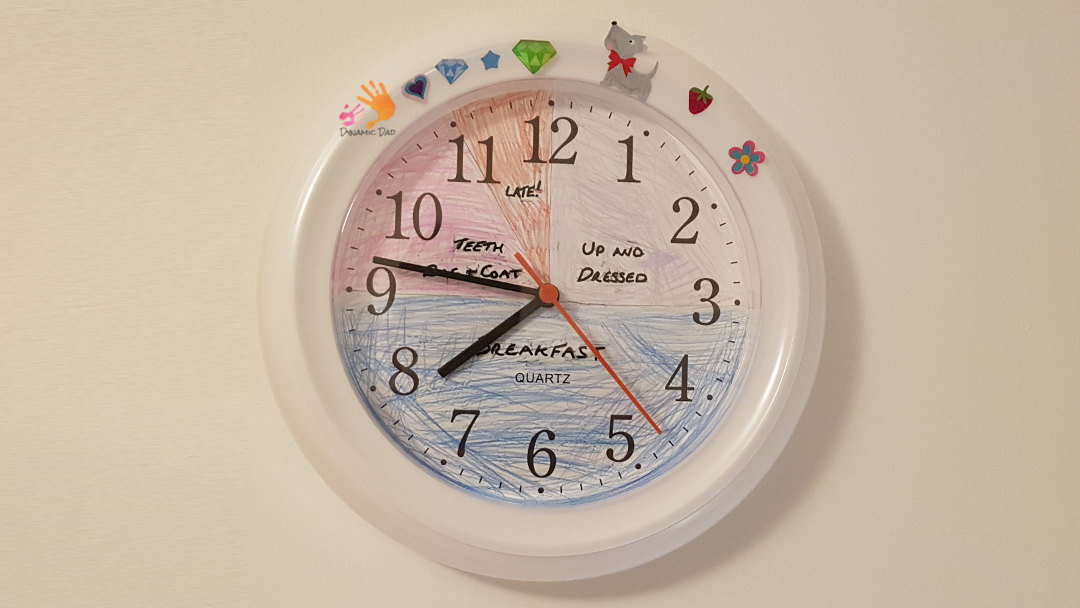 It's important to have your children as involved as possible because this forms part of their commitment to achieving the task – they are the ones who drew the lines, wrote the words, coloured in & decorated.
The answer then… how to get your kids out of bed and win at the morning routine? Get them to commit to it – by writing it down – without realising, in a fun craft project. Isn't psychology great?!
As you can see, I also let Bean decorate the clock with stickers. We could have used paint or even decoupage, it's up to you – the more the clock is theirs, the more likely it is to work!
Using your morning routine clock
Okay, this is important.
You've made a morning routine clock to get the kids out of bed and ready on time.
You don't enforce the times on the clock.
The clock does this.
By 'offloading' responsibility for getting things done on time to the clock (and to your children) you are no longer the "meanie".
If you try to enforce to-the-minute compliance, you will fail, and be back where you started. Mutiny, rebellion and a more deeply entrenched tendency to refuse to do things your way.
The clock lets them do things their way, which, conveniently, is what you need them to do.
Know though, that they will run over the lines and be late to breakfast (or whatever else).
However, they will be happier, they will be responsible, and they will be aware – and they will make the time up – on their own!
Occasionally you'll need to nudge them… "honey, the clock's in Breakfast, are you nearly ready?", but that's about it.
Let the clock, and the psychology of their commitment do the work for you.
As long as you leave (and arrive) on time, does it really matter? You can always make a new clock if/when things need to change – it only cost £3!
For us, a month or so in, it is working well. We're up, dressed, fed and out of the door on time.
Have a go, good luck and please @ me in your pictures – I'd love to see what you and yours come up with!