Best Money Saving Apps for 2020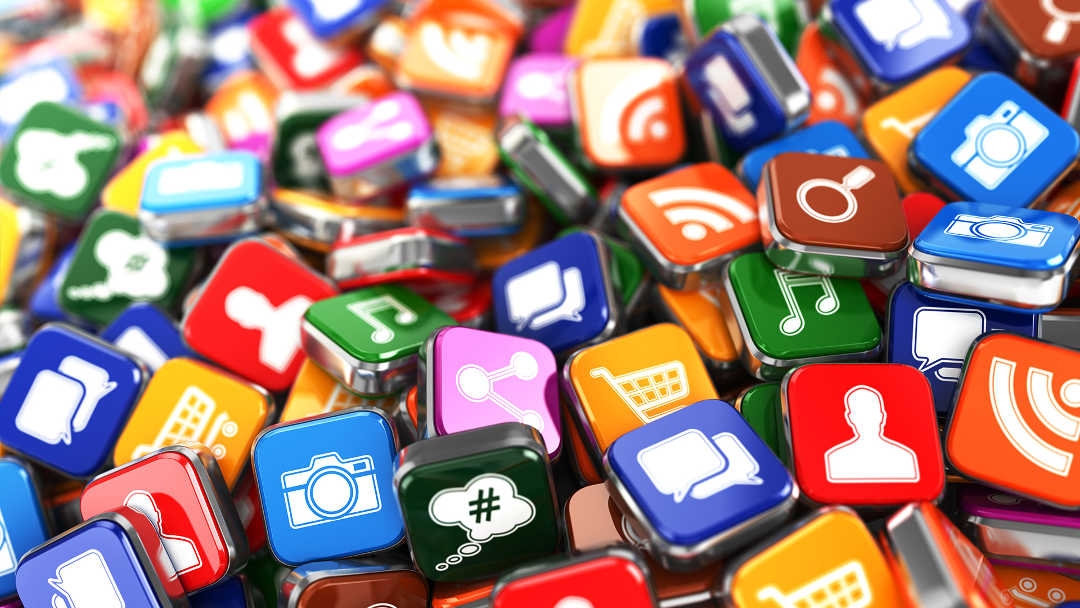 You can do almost anything from your smartphone now, so let's look at how we can use it to cut our expenses, save and even invest with the best money saving apps for 2020.
I've covered several types of money saving apps ranging from cashback, price comparison, discount club, banking, saving and investing – so there's something (or several things) here for everyone – parents, travellers and honestly, anyone who spends money.

Yolt is an app that tracks your spending and categorises it so you can see at a glance how much you've spent, and on what, at any time. Knowing you've already spend £46.20 on lattes this month is a great incentive to cut back on your expenses.
It can connect to a really long list of banks and credit cards which made it ideal for someone like me – I have a number of cards with several different card companies and banks (because I take advantage of as many perks as I can).
Being able to collate all my spending data in one place is a fantastic way to keep track of my budget, even when I've used different cards or accounts to buy similar things such as groceries.
It's inbuilt budgeter is really easy to use and gives a recommended budget based on what you've spent previously. It will also tell you when you're getting close, or you've gone over budget during the month.
Connecting the app to my credit cards was easy and the data was there in a couple of minutes, my bank proved more of a problem and I emailed support, but using a different internet browser on my phone resolved the issue. Simply put, my banks verification page didn't load properly in one browser, but was fine in another.
There are some inbuilt guides on the app to help you get the most out of it, but it was pretty intuitive and I haven't (yet) looked at the guides. I will, because there's always some gem or other hidden in there!
Once all my spending data had been synchronised and auto categorised I spent a few minutes correcting some but more importantly using their nifty hashtag feature. When you're buying something specific such as presents or holiday items that would otherwise fall into and get lost in a general category, filtering by #holiday or #birthday allows you to check up on exactly what you've spent so far.
Yolt is definitely one of the best money saving apps you could have to help keep track of, and control of, your budget.

Some of us find it really difficult to save – and committing even a few tens of pounds can be really daunting when you're a cash strapped parent and/or divorcee.
Money Box is quite literally a money saving app and a nifty solution that you can connect to your normal payment card where it'll round up your purchases and put the difference away. BUT – it's not just any savings, your loose change will be invested into tracker funds which will, hopefully, yield a better return than the 0.0000001% rate you get with your run-of-the-mill high street bank instant access "savings" account.
You have control over the type of account and the risk you're happy with (investments always carry a risk that the market could go down, not just up). So, you can choose from an ISA, Lifetime ISA or their (taxable) General Investment Account with a risk profile of Conservative, Balanced or Adventurous.
You can of course select a more traditional savings method by setting up a direct debit or adding money manually. Do make sure that if you choose to round up your purchases, you have enough available – you don't want your efforts in saving to take you into an overdraft.
Some cautionary notes: investments are really a long term strategy due to market fluctuations (the value of your investment can go down as well as up), the fees with Moneybox are higher than if you were to invest directly through other means and it can take a short while to withdraw your money due to the security and checks in place.
Overall though, Moneybox is a fantastic way to get started in investments – it's easy to set up and manage, secure, and your money is still protected under FSCS rules.

Taking a brief departure from the banking type money saving apps, lets look at Waze – for your GPS navigation. I'm a latecomer to Waze, with a few months under my belt now. I previously used Google Maps for my navigation and I regret not switching earlier.
Waze does a number of things better: it's community supported and updated, accidents, road closures, speed traps etc. that are reported by another user will be relayed to your device – prompting a route change if appropriate.
It'll also pipe up with an audible warning of things like "Look out! Accident ahead" or "Police reported". This will save money in fuel, time and of course frustration by keeping you moving on your way.
Fuel prices – you can set up your preferences (i.e. petrol or diesel) and when you need to top up you can either add a stop on your journey using the handy 'minutes off route' function, or search for the cheapest station nearby and head directly there. Why pay more than you need to, when the community keeps prices current and in your pocket?
Do pay it back though – you can correct errors in the map, add 'local knowledge' routes, update prices and report road/traffic/etc. problems so everyone can benefit.
Another great feature is being able to plan your trip in advance – it'll give you a visual representation of what time is best for traffic, or alternatively if you need to arrive at a certain time for your appointment, it'll tell you when you should leave.
I think Waze is fantastic and it is now a permanent icon on my home screen.

Kids Pass is a must-have money saving app for parents. Days out, activities etc. cost so much now that often we just can't afford it.
With KidsPass though, you can save up to 57% on thousands of family days out, plus kids eat free at thousands of restaurants – nothing short of brilliant! They also offer massive savings on UK family breaks and they've recently introduced 50% off some exclusive online shopping offers.
On top of the above, they offer up to 40% off at cinemas nationwide, 7 days a week, including adult and child tickets. I'm certainly going to be taking advantage of that this winter.
Kids Pass is a membership club, currently you can join for £39.99 annually, or £3.99 monthly – which is around the same as if not slightly less than a single child ticket to most UK theme parks.
Given the amount that you could save, the membership fee is a small one to pay – a couple of coffees a month for some pretty impressive discounts.
With their free iOS and Android apps, saving on days out is easy, and the digital membership card is held in the App – so you just have to show your phone to get your discounts!
Even if just for the kids eat free offers, this is an app that ALL parents should have. To give them a spin, you can sign up for a trial for 30 days for just £1 here.

This app is a brilliant way to get some money back on purchases you'd normally make. The premise is simple, if you're about to buy something online, go to the merchant via the Top Cashback website and the referral commission they receive is passed on to you.
You can do this for just about everything you were planning on buying – insurances, utilities, electrical and luxury items, groceries, clothing, gifts, everyday essentials, take-away's. Literally anything!
They even have in-store grocery deals on the mobile app too, so while you're out doing the weekly food shop have a quick look and see if there are any promotions good for you – cashback on your favourite wine or a chance to upgrade your sausages for less than you'd pay for your normal ones (after cashback).
Once the various vendors have confirmed your purchase the cashback will appear in your online account, you can then claim it by BACS transfer, PayPal or even gift cards.
Sign up was easy, the app and website are straightforward and I regularly find a cashback deal on something I was about to buy. My most recent purchases have been for a weekend away and I've got cashback on the flights, the hotel and on the airport parking.
Sign up and try it out for yourself at TopCashback.co.uk

Depending on how you look at it, Stocard is more of a pocket saving app than a money saving app. You know all those loyalty cards you have (or don't), well, Stocard allows you to store them on your phone so you don't have to carry excess plastic about with you.
Simply use the camera to scan the barcode on your card and it stores the info in the app, then, when you need it, you have an on screen barcode that's scannable (in most places) just like the cards. Even if it doesn't scan (some older scanners) the card number is clear so it can be put in manually.
You can also take photos of the front and back of the card for signatures, photo ID, etc, etc. It has literally cleared my wallet and my keyring.
Now, the thing with loyalty cards is that it typically doesn't pay to be loyal – if you can get whatever it is cheaper elsewhere, do. That said, if you're shopping somewhere that has a loyalty scheme, use it.
I collect Tesco Clubcard points on mostly fuel, but this goes toward days out with kiddo or gifts etc. – all off the back of my regular spending. If fuel is cheaper elsewhere, I go elsewhere – but I use their loyalty scheme too.
This gives me as many points as I can muster, to save, transfer, combine or spend according to whatever the terms are – as long as I have my phone in my pocket, which I normally do.
I also use Stocard for things like my Library card, a copy of my Driving Licence, other membership cards etc. If you can take a photo of it, it has a barcode or a membership number of some sort, you can use Stocard and get it off your keyring or out of your wallet.
An added bonus is the exclusive coupons and offers within the app – and if you grant access to your location it can tip you off that there are deals to be had nearby.

Monzo is more than a money saving app, it's a bank account app – but with a very useful twist, especially for travellers. It comes with all the features you'd expect from a current account – a card, direct debits, transfers etc. plus a handy spending summary and budgeting feature.
It has the ability to 'freeze' your lost debit card from the app, and then 'defrost' it again when you find it in yesterday's jeans – useful, as we've all done it. Some of us more often than others!
The traveller's benefits are that you can use the card abroad with no extra fees or charges, and a much better exchange rate than your existing current account provider, credit card company or anyone on the high street.
You can also transfer money internationally for up to 8 times less than high street competitors, as well as via bluetooth to other Monzo users. You can even draw up to £200 in foreign cash every 30 days for free.
They're a 'real' bank, so your money is FSCS protected up to £85,000, just like on the high street.
If you travel much, transfer internationally or just want an easy way to track and manage your money, this is definitely an app, and account, for you to consider.

TransferWise is the power behind Monzo's international transfers. For those who work internationally, travel frequently, send money to or receive money from abroad on a regular basis TransferWise can offer a truly borderless account and significant savings.
Their low-fee transfers are up to 8 times cheaper than those on the high street and an account with them gives you a local sort code and account number to receive money from over 30 countries worldwide.
This is particularly handy for anyone who moves money across borders – whether paying foreign tuition fees or mortgages, or receiving Euros & Dollars it can all be done with the same account. Withdraw or deposit in Sterling as and when you need to – and convert currencies when the rate is best.
You can also apply for a MasterCard debit card which will allow you free spending with any currency that's in your account, up to £200-worth of cash withdrawals every 30 days and instant conversion at the real exchange rate – the mid-market rate.
This is the rate you'll see on Google, it's the one the banks use before they add their own markup, plus fees and charges – so with TransferWise you cut out those extra costs.
Transfers can be easily tracked in their mobile app and as will all the apps mentioned here, security is a top priority. They are of course also authorised and regulated.

I've said in a few posts that it's wise to shop around – the likelihood is you'll get certain things at a better price in different places.
The difficulty in that is of course getting to multiple places to buy little bits of your regular grocery shop. It's not very convenient, and you may end up spending more in time and fuel for the privilege.
However, the nice people at MySupermarket have presented us with a solution: add your shopping list to their app (or website) and they'll compare supermarkets – including Aldi, Lidl & pound shops as well as the major players – to show you the best place to shop today.
Once you've registered you can connect to your supermarket's online account (if you've set one up) to download your recent purchases. You can create shopping lists and favourites, and even scan barcodes in store with the app to compare prices and save money while you're there. Plus, everything you scanned will be saved so you can create lists easily from your regular shop.
While not 100% perfect (some items in store don't appear on the app/website) this is still a fantastically useful way to save around 30% on your regular grocery shop. If a couple of stores are conveniently located, you could of course split your shop between the two to get the best price at each place.
For saving money by cutting costs, this is certainly an app to have (the Android app is great, the iOS app however appears to be wanting).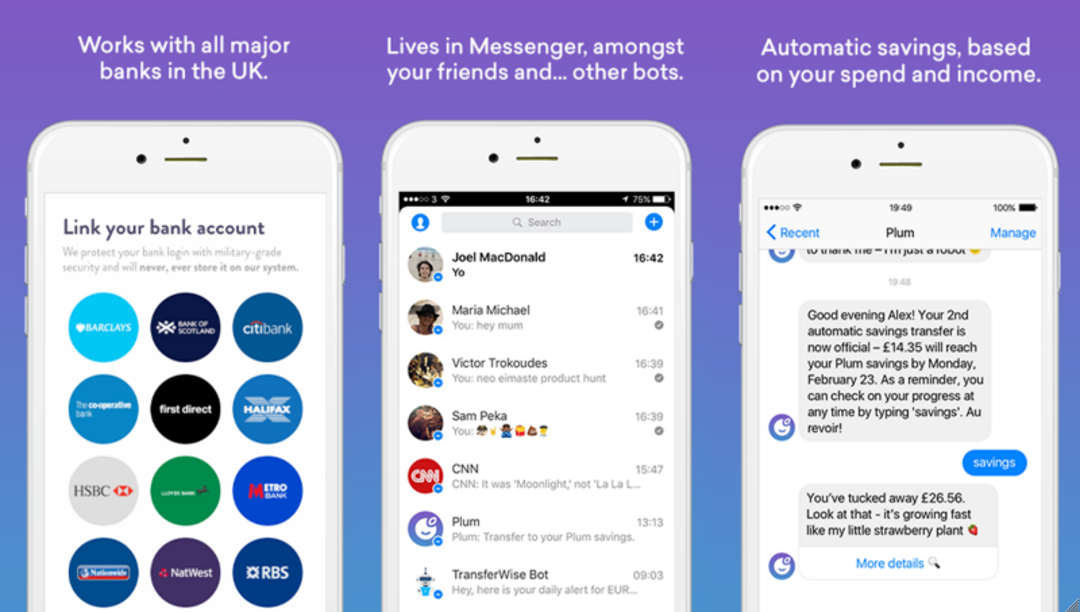 Another literal money saving app, but a little different as this one lives within Facebook's Messenger app. Once you've signed up and connected your accounts, Plum analyses your income and expenses as well as your spending habits.
With a little AI wizardry Plum then calculates, and transfers, the most appropriate amount into savings for you. The idea is that it'll save little and often, in amounts that you can afford and won't really notice.
The difference between this and Money Box is that Plum is a straightforward savings account, whereas Money Box is an investment account. It's also important to note that Plum doesn't pay any interest on your savings. That said, Plum do offer investment options too.
Another boon to the Plum app is that it is tied in with other money saving offerings – so as it's analysing your spend on things like bills, it can recommend switching for you to cut costs.
You could of course do this yourself by visiting Money Supermarket or uSwitch etc. for your energy comparison – where you'd have a more direct input to the proceedings, but it's certainly a handy feature.
Sign up to Plum via their website and chat to your new money saving bot in Messenger.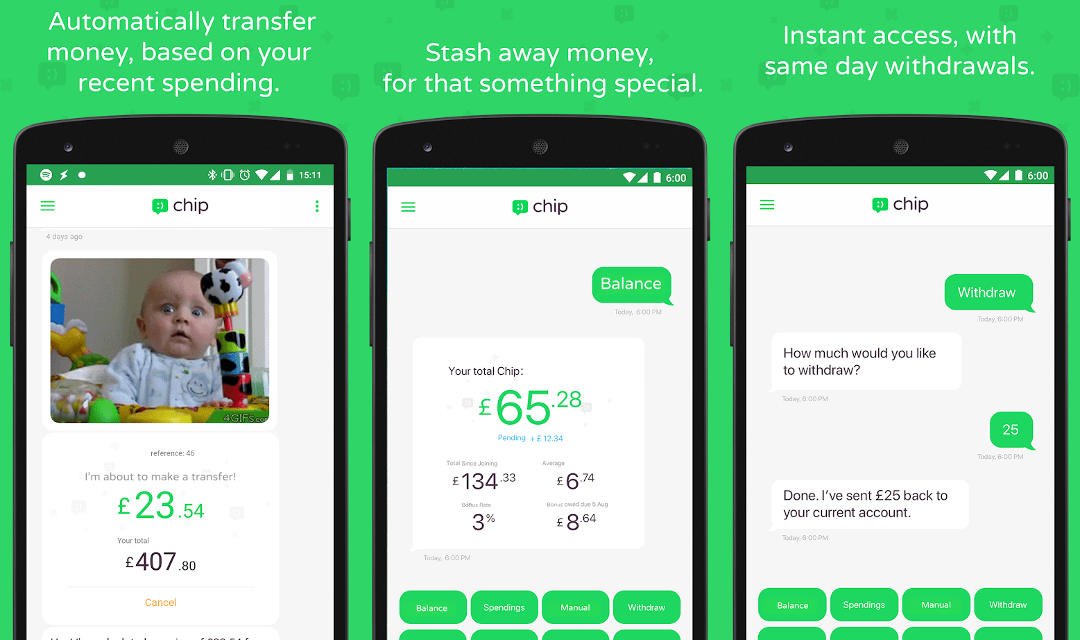 Earn up to 5% interest on your savings with Chip. Like the others featured here, Chip is a micro savings app that can analyse your spending and transfer cash to build up a pot for the future – whether it's a holiday, new car, Christmas etc.
The difference is that Chip offers an additional 1% interest for a year for each friend you refer who starts saving with them, up to 5%. Given that most high street savings offerings are in the region of 0.5%, you can't really go wrong, even if you only have one friend sign up!
Chip offers a guarantee that their algorithm won't take you into your overdraft, and they're so confident in it's accuracy that if it does, they'll send £10 your way to cover the charges. If you like, you can override this feature to save while in your overdraft – but if you do, the guarantee and £10 don't apply.
Chip allows you to manually transfer up to £100 per day and up to £600 per month and you can deposit up to £10,000. It'll take a while, but once you do hit the threshold you can't pay in any more. You will still earn interest while any referral sign-up interest rate is valid.
Chip are also doing some interesting things with their ChipX series – including community lending that could boost your savings returns up to 8% (capital at risk).
A great money saving app, and a company to keep an eye on for sure.
For more money saving tips, read how to save £3,000 a year and make more time to spend with the kids, a quick fire guide on 5 things you can do when money is tight and some insider tips they don't want you to know about how to save money on you car insurance.