My spectacular camping fail – what went wrong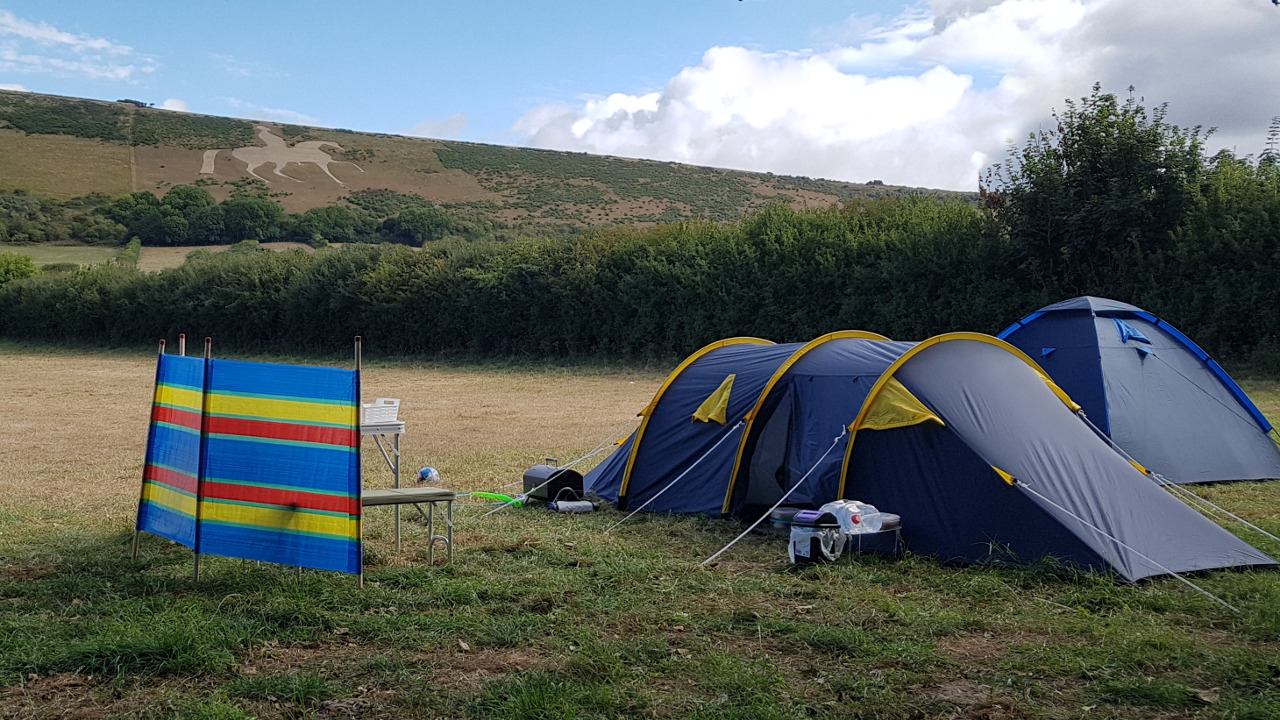 I try to take my daughter on regular trips and mini-holidays away in order to keep a degree of excitement bubbling when we spend time together. As I've been separated nearly two years now and had to move away for work after redundancy, we don't get to spend as much time together as I'd like.
During the summer holidays I made sure to take as much time off as possible to spend with her, and while I can't afford to take her on holidays to Butlins, never mind abroad, I thought a good old-fashioned, British camping trip would be in order.
As a kid I was a Scout and a Cadet, led a Ten Tors team and completed a Duke of Edinburgh's Award, but I've not actually been camping now in around 10 years. Bean has never been camping at all. So, I decided I'd keep things local and limit it to three days. This way if it all fell apart we'd only be 30 minutes from 'home' and three days meant I could always try to convince her 'just one more night'.
As it turns out, being only half an hour from home was a good choice!
Preparation
As I've mentioned in other posts the 5 P's are really important! I however, didn't follow my own advice properly.
I'm pretty lucky to be fair, I was chatting with my colleagues about my plans and several of them immediately asked what kit I had and offered loans of everything to fill in the gaps. So, with borrowed tents, 1 inflatable bed, a camping table, gas stove, windbreak and a few other odds and sods I put a shopping list together and set about claiming my Avios and Nectar points through Amazon and eBay for various things – some of which arrived on time, others did not.
I also made a trip to Sports Direct with Bean. She has a habit of destroying the toes on her shoes anyway, and as we were going to be in a field and doing a little hiking I thought we'd see what we could find. We were in luck, for only £13 in the sale we got her a pair of Karrimor walking shoes – perfect for not only our camping trip but for battering around outdoors when we go Geocaching and Rock Hunting.
Now, as well as a shopping list I had a packing list. This included the important things like toilet roll and sleeping bags – here's the fun part about how I managed to forget them.
In my car I always carry a 'go bag' – that contains, in addition to a plethora of mostly unnecessary first aid kit, sleeping bags, changes of clothes for us both and overnight sanitary bits. I knew this, so I didn't bother to pack the same in another bag.
However, when it came to packing the car – I decided that the sports bag containing all our overnight emergency kit was taking up too much space and wasn't needed anyway – because I was packing all the same stuff for our camping trip, wasn't I?
No. Idiot. Fail #1
Pitching up
We got to our campsite – Northdown Farm near Weymouth, beautifully situated under the White Horse and were greeted by a sign that said "Camping Fields –> Pitch wherever you like". Now is probably a good time to apologise for the lack of photographs – I wasn't planning to write about it!
So, we had a drive around the several large and mostly empty fields and I picked a spot along the tree line with a good view of the White Horse, near a couple of large, family looking tents in the hope that they'd have similar enough aged children for Bean to play with. She was dead excited, it was her first camping trip and she was really looking forward to staying in a tent and hiking up the White Horse. So far, so good!
As we drove up we passed one of the composting toilets dotted around the site and I realised that I'd forgotten loo-roll. Thankfully I had a multi pack of pocket tissues stashed somewhere in the car and there was a shop just off site. Oops, but easily overcome.
It wasn't until we'd pitched the tents and I'd restrung all the guy lines Bean had helped with that I realised the bedding was missing.
I had no choice but to drive home to pick them up. This infuriated me. Not only because it was entirely my fault, but also because I'd hoped to teach that we could survive with simple equipment, no electronics, just the great outdoors and still have fun. I explained my forgetfulness to my dear daughter, we mounted up in the car and did the round trip to pick up *some* of the forgotten equipment.
So much for all that experience outdoors.
Back at the campsite and the two families have returned to their tents – with 4 boys all around Bean's age! Excellent! They say "Hi", invite her to play and invite us to join them at their campfire later that eventing (a boon for Northdown Farm – campfires are permitted, yay!).
I setup our camp kitchen and prep dinner and all is going well. The weather is fantastic, the campsite is practically empty so there's loads of space for the kids to roam and I started to feel like I was on a mini break.
Then reality hit. Again. Hard.
Bean wanted to go to the toilet, and I'd still forgotten to pick up tissue even with our extra trip home. You know how you think "I'll grab that when I…" don't. Grab it now! While you still remember!
Thankfully – the campsite saved the day. The toilet (a well converted garden shed) was fully stocked with toilet roll.
Fail #2
Campsite 1 – Dad 0
Bedtime
We took two tents as I thought Bean (6) would probably be OK sleeping in her own tent. After all, she has her own bedroom. I had her make her own bed, she laid our her clothes around the tent in little piles ready for the next few days.
We spent a few hours around the fire with the other parents and children, roasting marshmallows, looking out for the International Space Station and trying to stop the kids setting fire to themselves by 'helping' put more logs on. At a much later than normal bedtime, we read stories and once she was down I rejoined the other parents around the fire with a gin (I remembered to pack something!).
It turns out they were pretty local too, coming from Bournemouth with a group of 9 families, 9! They do it every year – not always with the same numbers but always as a large group – and always to the same site (having tried a few others that didn't fit the bill). Their group was leaving the day after next, at the end of a 10 day trip while the other families with them had stayed for 7.
The reason they always come back to the same place is that there's so much to do in the area, the kids can roam free on the site as it's so vast, campfires are allowed and they can camp the whole group, however large, together without a problem.
After they'd left a different group turned up with a similar story – fairly local, always back to Northdown every year for several years, for the same reasons. Space, campfires and being left to their own devices. Effectively wild camping, but with permission and some basic facilities.
I get the feeling I'll be doing the same.
Breakfast
Finally! Something went well. I had gotten a little breezy so I was grateful of the windbreaker to use around the stove – and I could make my espresso in a stovetop espresso maker (OK, I forgot the bedding and bogroll, but I remembered the gin and espresso maker – you know, the important stuff!).
Happily caffeinated I checked on my sproglet only to find that her brand new inflatable bed had deflated during the night.
Fail #3
My borrowed one on the other hand survived just fine.
Not a brilliant start then, but thankfully she didn't seem fussed. I checked it over, nothing obvious so I put it down to her having knocked the valve on the side while she was getting into bed (or possibly me, when I read her stories and kissed her goodnight).
We cooked breakfast together and washed up at the sinks provided (complete with hot water!) and headed to the main site of the group, Eweleaze Farm. Here they have a very impressive set up with everything you could possibly imagine, including saunas, yoga classes, a kids craft tent, a bakery, ice cream parlour, bar, pizza van etc.
This site was extremely busy but then again had sea views and beach access as well as the extra facilities. They also have "glamping" options with large bell tents, furnished too if you're so inclined. The facilities at Eweleaze Farm are free to use for customers of Northdown Farm and their other site Shortlake Farm which is a nice bonus for those willing (or needing) to make the short drive or longer hike.
Bean made quick use of the craft tent which while a brilliant idea, the prices were pretty steep for what was on offer. We often go to similar craft events at our local library, manor houses & country parks, and pay a fraction of the cost if at all. I suppose this is what happens when you have a captive audience.
Ice Blocks
Eweleaze operate an ice block exchange program where you hand over yours, get something roughly equivalent in size and pay for the service. In principle it sounds ok, although I had been expecting an on site chest freezer and an honesty system at Northdown – and given my experience I would have preferred that and the associated risks. Most campers are pretty honest, we're all in the same boat after all.
So, I handed over my blocks and my cash – an identical pair of 1 litre blocks and a pair of non identical 0.5 litre blocks, as they take them they declare "Two large, two small". I'm not familiar with their sizing system, but OK, that seems reasonable to me. In return I get a very large, possibly 1.5 litre monster of a block, and a large, very thin new-style one, probably about 0.7 of a litre in all. They apologise they don't have any more similar shaped ones, but the overall volume is about the same. I'm happy enough and the two smaller ones are almost equivalent.
The next day however, I apparently only have 1 large block and one medium block – the thin one was only a medium, not a large. What I'm presented with is two "small" blocks, one "medium" one that is almost imperceptibly larger and a "large" that's equivalent to the ones I started with. I'm not impressed, as given that my "large" became "medium" overnight, and I can barely tell the difference in the size of the three on the table, tomorrow I'll be down to one "large" and three "small".
I argue my point and they only agree to give me a "large" block to get rid of me, eventually. Thankfully the block they pull out is one of mine – with my name on it from a decade ago. I explain again and they look for my other block, but it's already been given out.
It's not the end of the world, I'm leaving with stuff equivalent to what I arrived with – but seeing things go from large to small in the space of a few days because one persons opinion of size differs from another's mean that I, the customer, lose out. I'd prefer a system whereby either I get my own spare blocks back, or I at least get a receipt for what I've given in – 2 large, 2 small – so that I'll always be owed the same.
As you can probably tell, this irked me somewhat.
Fail #4
The beach
Eweleaze have done a great job here. There's access to the beach direct from the campsite, there are a couple of floating platforms to swim out to and solar showers to rinse off afterward. There are plenty of heated showers about the site too, but a dedicated open air set at the top of the steps leading down to the beach.
Bean was able to take her body board out and paddle in the surf, I was quite happy sat on the shingle doing nothing!
After she'd had her paddle about we headed back to our tents & Bean set about climbing trees that ran along the stream at the back of the field. Until, that is, she fell in. In reality it was only one foot that got wet and muddy, but it was the end of the world in her eyes. I reassured her that it didn't matter, this is what hiking boots are for, but she insisted that it needed to be cleaned. Given the level of drama, this also meant it was feeding time.
Once calm was restored I left her boot to unsuccessfully dry in the sun. This led to Fail #5.
As we'd had a BBQ, I had the bright idea of heating a few rocks from the river to put inside her shoe to dry it out. This technique does work, however there are a couple of things you need to do correctly. First – boil the rocks, this way they reach a maximum of 100 degrees. Second, remove the insole before you put the rocks in.
If you don't, despite regular checks, you'll wake up in the morning to find this: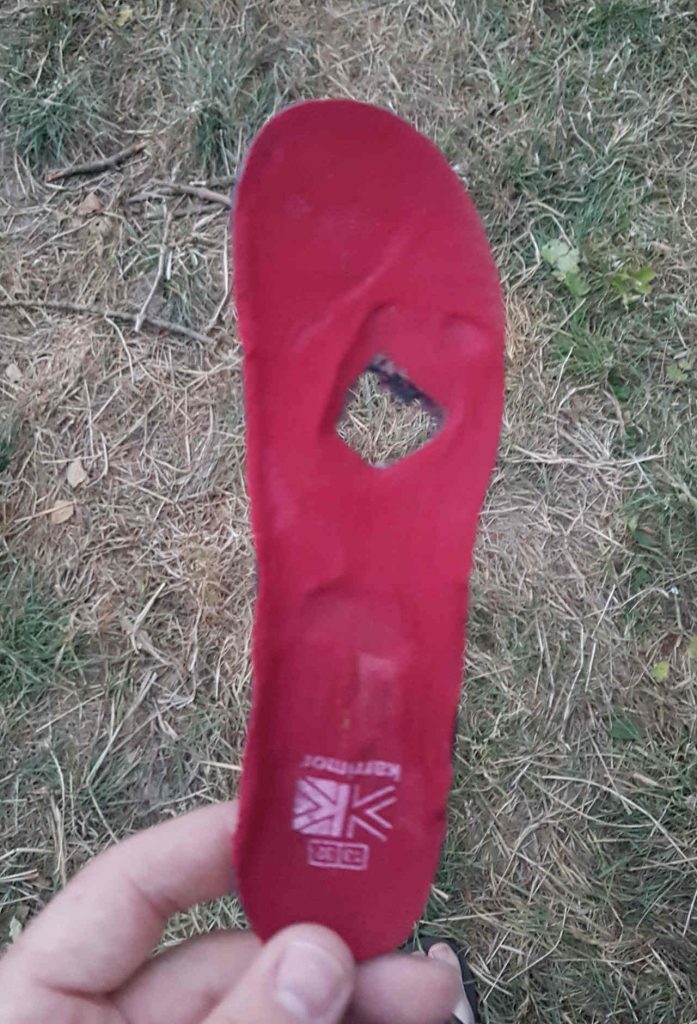 On the day we were supposed to hike up the White Horse.
FML.
I have limited options here – drive into town in the hope of finding some child sized insoles, or even replacing the shoes entirely, on our "we can survive for 3 days" camping holiday. Ugh.
Thankfully, a last minute idea saved things – the insoles of her beach shoes fit. I swapped them out and we scaled the White Horse, had lunch on the front hoof, and flew kites from the top before walking back via footpaths past an oh-so-tempting pub at the corner of the site. Next time.
After slowly cooking dinner on the single burner stove with pots that were too small to prepare meals for a man who eats like a horse and a child who eats like a man who eats like a horse, we used the block of showers in the next field.
Despite there only being the one block, they were great. Hot, plenty of space, hooks galore for towels, clothes etc and useful shelves for wash kits – all in a mobile wooden building.
After our showers I brushed her hair by our campfire – because you have to have a fire when you're camping.
It never rains, but it pours
On our last morning, at the end of the heatwave, it wouldn't stop raining as I was packing away our tents. And of course I'd not brought waterproofs because a) we were in the middle of a heatwave and b) I'd checked the forecast and rain wasn't due until tomorrow.
Fail #6
It's all over
However, despite my many failings and increasing stress over them, Bean thoroughly enjoyed her camping trip and was asking why we couldn't stay longer and when we could go back again.
This is pretty good considering that two nights in a row her bed deflated (I swapped them over, and still hers went down?!), I forgot the bedding and toilet roll, I burned a hole in her shoe and it took soooo long to cook that she could probably have walked to the pub, ordered, eaten and gotten back before I was ready.
So I've learned a few things. First, when travelling with more than one person, you need more than one burner and bigger utensils. Second, kids don't care. I posted about this recently in "5 things you can do when money is tight" – K.I.S.S. Keep it simple, because children really don't care that much – it's about the experience and the time together. Yes, you need the essentials like gin, ice blocks and espresso, but so long as you can provide a field to run in, food (eventually), shelter and love – they'll enjoy themselves too.
Also something about lists, preparation and packing. I think.
On a much happier note – I popped back to Sports Direct and they do have C sized insoles, so with a photograph I actually remembered to set up and take, I replaced her insoles and her shoes are good for our next adventure. £19 in total for the shoes, the insoles, my stupidity and a bit of rectification work. Not bad.