Great games to take on holiday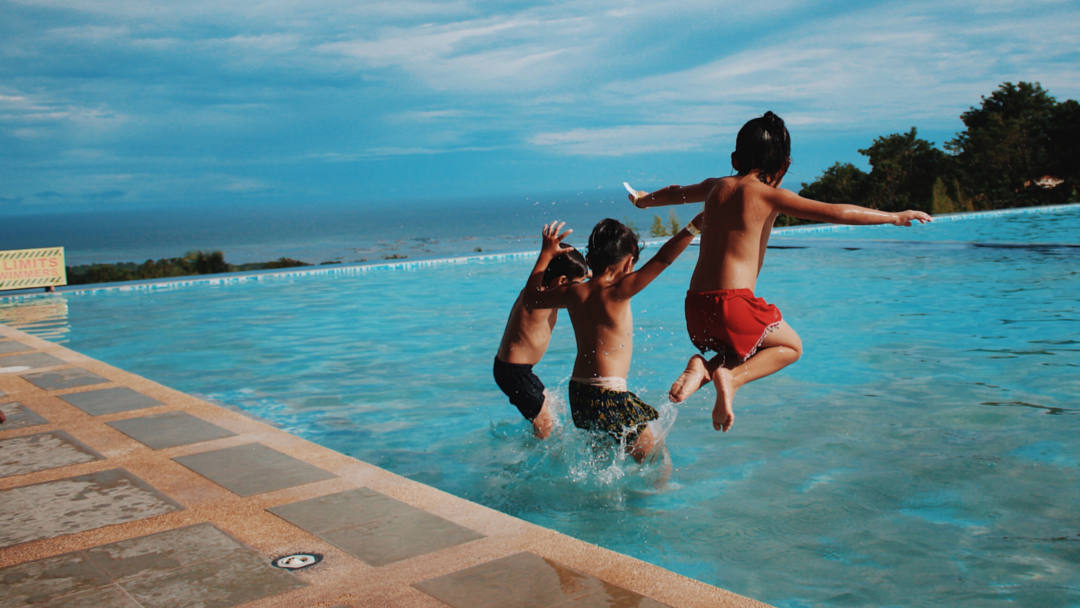 Holidays are something we all look forward to – and we all have our own idea of a 'perfect' holiday.
Some of us like to lie by the pool or the beach, others want to feel the rush of adrenaline by paragliding from a mountain or skiing down one.
Many like to hike, camp or while away the time on a canal boat and yet others choose to explore new cities and take in the sights and history.
Lots of us partake in all of the above.
One thing you can be almost certain of though, is that whatever your perfect holiday is, the rest of your tribe have other ideas.
Not only that, but you will probably have to endure the travel there and back with troops at both ends of the spectrum – from excitable and energetic to disgruntled and dramatic.
Even while you're away, there will be times that you find yourself tied to your accommodation or waiting for transport.
So, I've brought you my list of top travel games: entertaining, easy to pack, family and individual games and activities that should keep the relevant people, large or small, occupied in their time of need.
Plus, for my regular readers – you already know the importance of playing with your kids. If you're looking for some great gifts, take a look at this post.
Top travel games for your family holiday
No, I'm not suggesting you get your little people into gambling as early as you possibly can – but I am telling you that there is a huge variety of card games that can be played either solo or as a family with one or two decks of cards.
I've listed a few excellent card-games here, and a variety of other travel games after – so do read on!
Some of you will be familiar with some or all of these already, so my list will simply serve as a reminder – those who aren't, check them out – they're great fun and the competitiveness they bring out in some can be really entertaining!
I've linked to instructions from various places rather than try and list them all in this post, all of which have variations on the rules – and of course you can further adjust these to make your own family version.
A game where you have to create 'melds' of sets or runs of cards to win points and/or empty your hand. Play to reach a set number of points before anyone else, to have most points when someone empties their hand or play for the most points in the family 'league'.
The object is to play all your cards, cheating as necessary to empty your hand first – but if someone catches you cheating, you have to pick up ALL the cards that have been played so far!
Another game where the object is to empty your hand first – all cards played must match either the rank or suit of the card previously played, except eights – which are wild cards. If you can't play on your turn, you have to pick up from the deck.
Try to collect as many sets of four cards as you can by asking the other players for what you need. If they don't have it, they'll tell you to 'Go Fish!' You have to take a card from the deck, and it becomes their turn.
Solitaire
A brilliant game of observation and planning which can be played alone or competitively.
Snap
A game of observation and speed – who can call snap fastest?! Great for younger players as well as competitive older ones!
A simple, child friendly game where the objective is to win all the cards by playing the highest card each turn.
While not played with a standard deck of cards, Uno is a brilliant card game that can be played by everyone – and is of course the same size (but with more cards) in terms of storage space. It is one of my top travel games and a regular feature at events in my family, thoroughly enjoyed by all – from the grandkids to the grandparents – and can get pretty boisterous too. The aim of the game is to get rid of all of your own cards, while using the special cards to wreak havoc on the other players' game plans.
Aside from the excellent card games above (and many, many more), there are plenty of other small-size, big fun games to take with you:
About the same size as the box you'd expect a tube of toothpaste to come in, this game involves mixing up all the sticks in a pile on the table. They're marked with coloured bands corresponding to points and all you have to do is pick one up – without moving any of the other sticks!
This game requires a keen eye and steady hand to free your stick without moving another – or when it's someone else's go, calling them out when you see anything else move!
There are tactics at play here too – do you deliberately move another stick to forfeit your turn, but block a high value stick from the next player?
My siblings and I love this game – it comes out often at Christmas and other big gatherings. While we're all old enough to know better, when we play we're typically slightly tipsy, increasingly animated and always entertained. The little ones love it too, as do the grandparents. A big game in a small package.
A superb word game along the lines of Scrabble but without the board and packed in a banana case! The object of the game is to create a grid of connected words faster than your opponents, which makes this game is excellent for older children and adults.
It really is addictive, and it has the added bonus of teaching (or at least testing) spelling, as well as enhancing vocabulary – especially if you want to win next time!
There's even a 'junior' variation for younger kids too.
Tuck this into your suitcase or keep it handy and you can play anywhere there's a flat surface – easily one of the best travel games on the list.
These can really be a lot of fun – and pretty challenging on the imagination too sometimes.
Take the small pouch of 'cubes' with you, roll the dice and based on the pictures facing up, tell a story!
This is a great game for one through many players, and could even be played by the grown ups with a tipple once the children have retired for the night. The best part is that there are no wrong answers, it encourages creative thinking in oodles and the stories are always unique.
Expect confusion, laughs and entertainment for everyone.
Hangman
A classic, and while it may seem a childish game, my colleague had me tied up over this while we were on a flight together. It was staring me in the face the whole time, and she even told me I could see thousands of them.
Her vocabulary and grasp of English is far superior to mine, not that I'm making excuses, but she is a former teacher. She's also the Queen of Cards in the office.
The point is that you can make it as easy or hard as you like for your little ones, and even use it to help teach some basic spelling rules and word structure, if you're so inclined (try not to teach too much though, they'll learn anyway – so keep it fun).
All you need are paper and pen for this classic travel game.
For those interested, the word she really stumped me with was "Pixels". For the blog I should have read earlier, and to give you a tactical advantage, read 11 strategies for dominating hangman.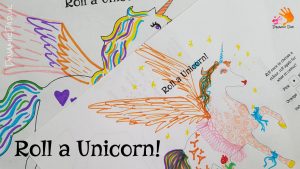 Create your own variation based on the season, your destination and interests. Inspired by this Roll-A-Monster, which was in turn inspired by a Roll-A-Snowman, I created Roll-A-Unicorn, which my little monster loves.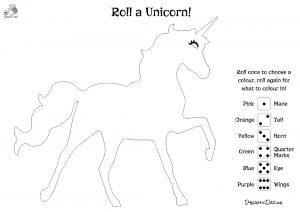 You could download my Roll-A-Unicorn printable and take a few along with you, or simply make up your own.
All you need are dice, something to draw with and something to draw on.
Write out your rules – a feature and/or a colour for each number of the die, plus special rules for doubles if you're playing with two dice or choose to throw twice.
This lasted for hours both with my daughter and with friends kids when I introduced it to them. Get involved yourself too, and see what whacky pictures you can create while you pass the time.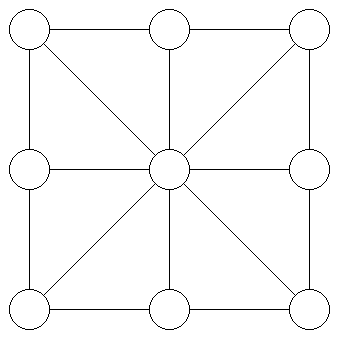 This is a game very similar to tic-tac-toe, except that it is played with movable counters – any will do, coins, bottle caps etc – on a gameboard like the one shown.
Two players have four counters each, and take turns placing them on the grid, aiming to get three in a row. If the game is a draw, each player then takes turns in moving a counter into an adjacent (or diagonal) empty space to create three in a row.
It's a draw when the same move has been repeated three times by each player.
Simplify the game for younger players by allowing counters to be moved to any empty space.
Simply sketch your game board, grab some counters of any kind and play.
A hugely popular game consisting of circular cards with only one image in common between any two cards in the deck. Observation, speed and reflexes come into play here to identify the paired picture.
All packed into a pocked sized, travel friendly tin this game is easy to play on the move, when waiting or just to while away the time – making it one of the best travel games you can buy.
It's not as easy as you might think – with each image moved, rotated and a different size on each card they're actually pretty challenging to spot!
Plus, with 5 variations of the game and scoring – there's something suitable for everyone in the family.
This one has been recommended by the Good Toy Guide for 2018 and it's easy to see why.
It's a brilliant family quiz game that not only entertains, but also helps develop critical thinking, empathy and self awareness.
Any game that can teach these sort of life skills in a fun, subtle way is certainly worth having on your travels, as well as having at home for 'quiet' evenings and weekends.
Other Ideas
That's my roundup of top travel games to take with you, for more great ideas in a neat takeaway package, have a look at some of my activity book recommendations on Amazon below… and have a great holiday!
If you have any games that you often take or play away, please, please let me know! I'm always on the lookout for fun, educational activities and would be more than happy to add them to the list too!