How to make Hallowe'en Mummy Lanterns and Luminaires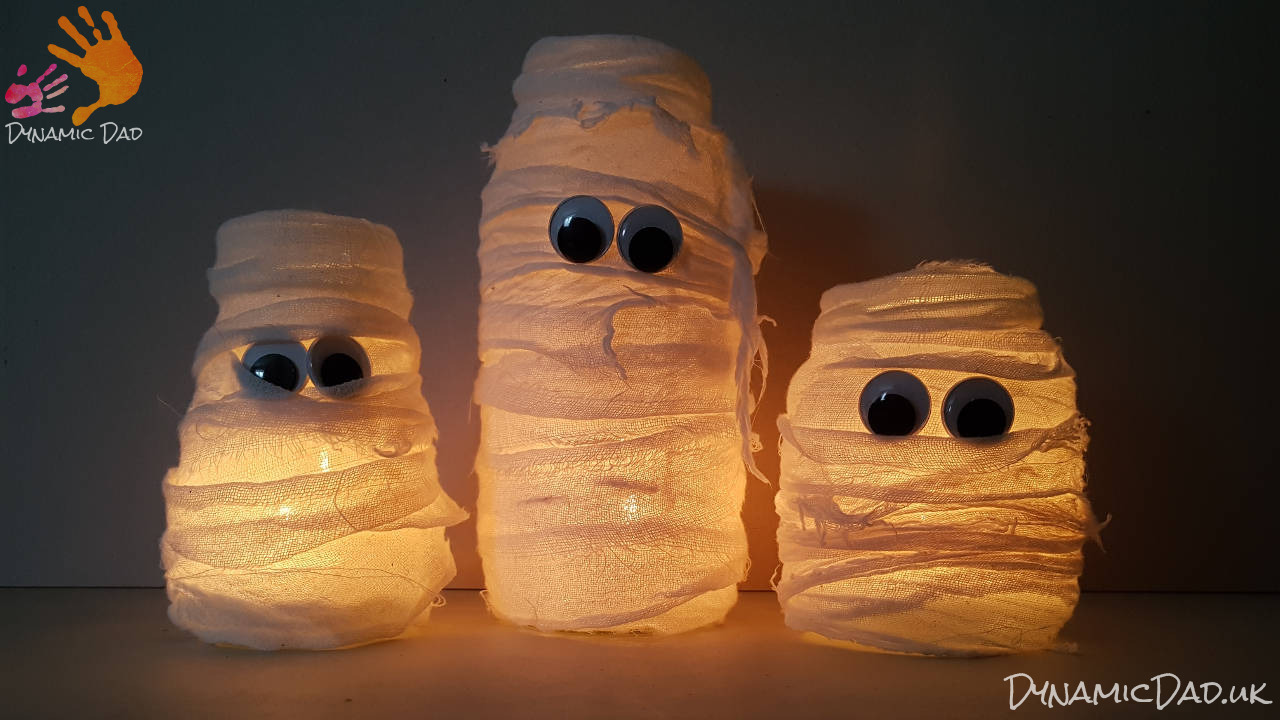 Hallowe'en is fast approaching, nights are drawing in and half term is right around the corner.
So, why not plan some cool half-term craft activities and make these DIY Halloween Mummy Luminaires?
They're really simple, you likely already have what you need and they're great fun to make as well as show as a dinner table centrepiece, window display or on the mantelpiece.
You'll need: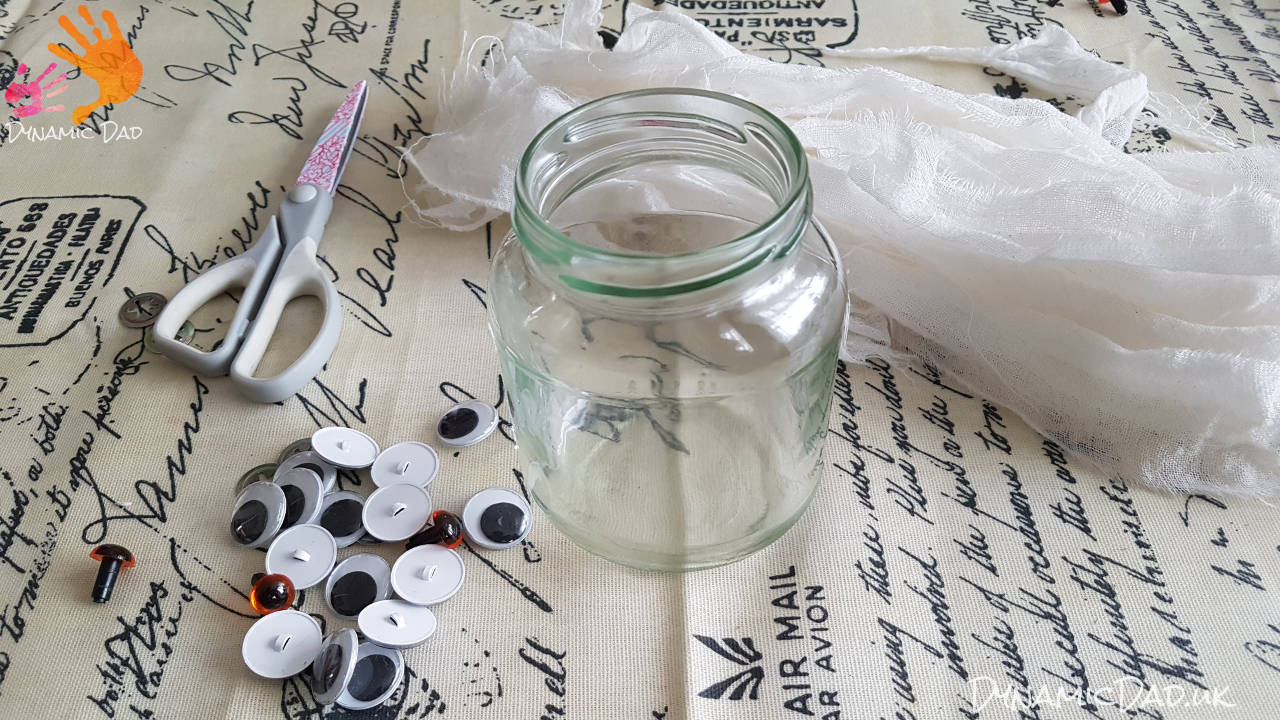 Jars – various shapes and sizes adds to the effect of your Halloween Luminaires (ours came back out of the recycling bin). You can use glass or plastic, so long as you're using LED lighting.
Bandages or strips of similar material (we used an old triangle sling, muslin would do too)
Light – LED Tea Lights or even these LED string lights that we used in this craft activity.
Glue – PVA will do it, but using a hot glue gun speeds things up
Googly eyes – (mine are sew on ones, but the link takes you to glue on googly eyes. You can find self adhesive googly eyes here.)
How to make your Hallowe'en Mummy Lanterns:
Start by scrubbing the jars clean and drying them. I'm sure you already have, but just in case, here's your reminder!
If you're using bandage, old or new, you're good to go. If you're using an old triangle bandage/dying pillow case/etc. you'll need to cut it into strips.
You can have a lot more fun with this by just cutting a little nick at one end and tearing the strips off – it's not often you can let your kids tear stuff up, so let them have at it!
Doing it this way instead of cutting all the way with scissors saves time, your scissors and gives a worn edge – just like a mummy!
Ideally, tear the longest strips you can as it'll make wrapping your jar lantern easier.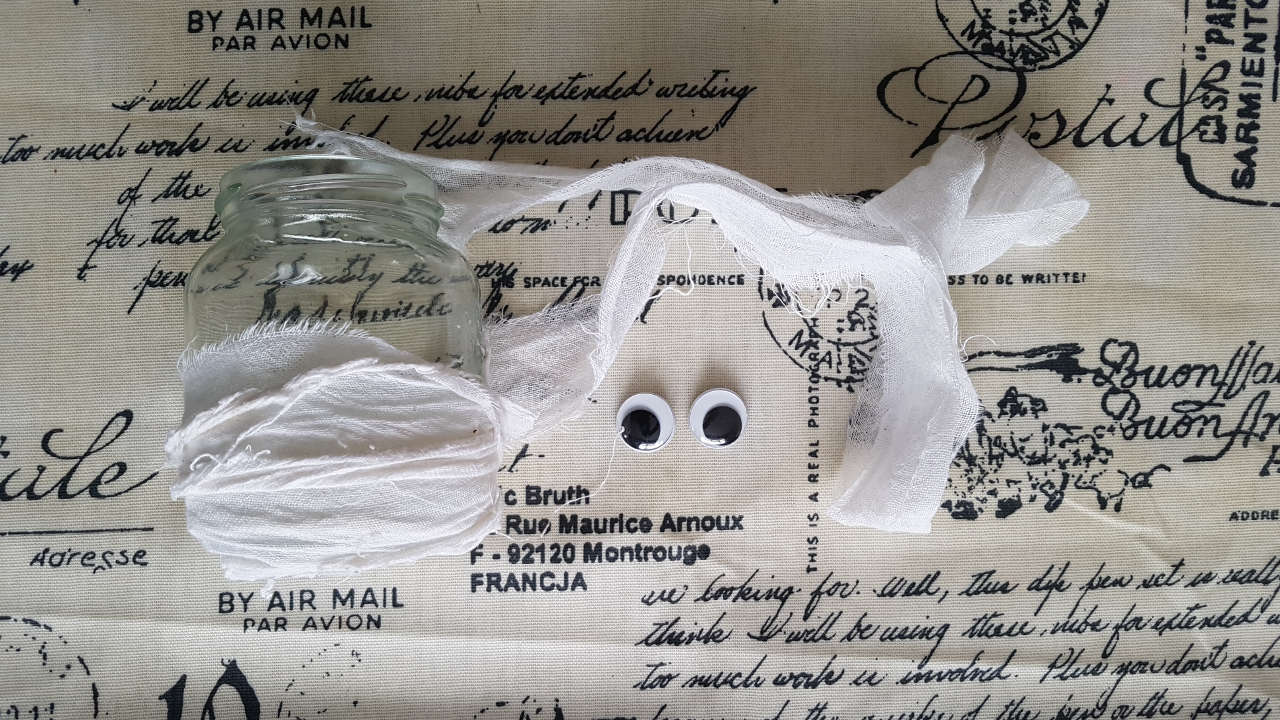 Start at the bottom of your jar, unless it narrows toward the top as one of our jam jars did, in which case start at the narrowest point.
Glue one end of your bandage strip to your jar, allowing the edge make contact with the table and crumple slightly.
I found the best way to do this with a hot glue gun was to spread a thin layer on the glass, which cooled pretty quickly, then place the bandage on top and use the tip of the glue gun to melt the glue through the bandage enough to stick it to the glass.
As it cooled so quickly, I was happy to let Bean handle the glue gun too – with supervision of course – and she made the tall Mummy Lantern in the photos of three.
Using a thin layer meant the glue was barely visible through the bandage too. If you're using plastic jars, be careful not to melt through the plastic with the hot glue gun.
Wrap the bandage around the jar allowing folds, overlaps and crumples for effect, once you've run out of bandage, glue the end down and start another strip in exactly the same way.
Keep wrapping until you reach the top and your little supervisor is happy it looks like a Halloween Mummy should.
At the top of the jars we folded the bandage over itself (not the lip of the jar) to give a sharper looking edge as I wrapped. Finish in the same way you started – a little hot glue pressed through the bandage.
With the exception of the top of the jar, we're not looking for sharp edges or perfectly glued bandage. It's a Hallowe'en Mummy after all – allow loose ends, trailing, twisted bandages, folds, lumps and bumps to add to the effect. As long as it's stuck enough to stay stuck, you're good – if it's not, add a little more glue to stop things slipping around.
Adding the eyes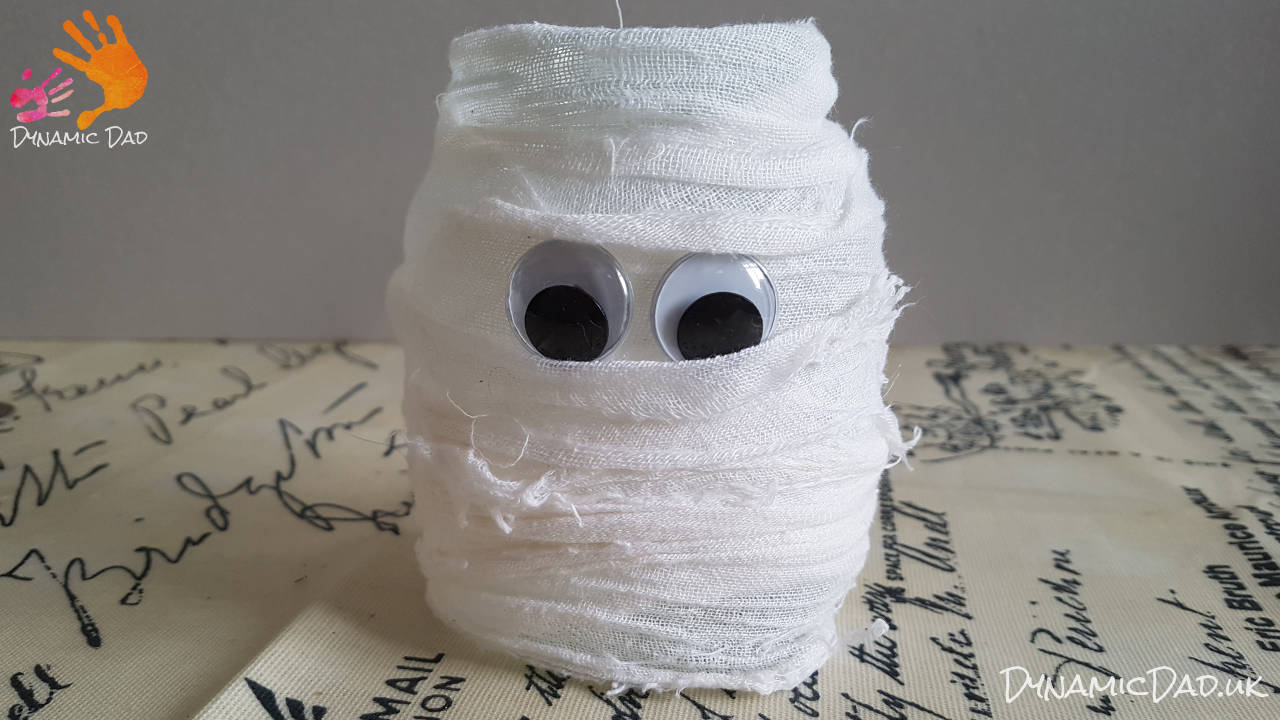 A little hot glue on the back and pressing them into position was all it took. Placing them between creases and folds gives the impression of the eyes peeking out from behind the bandage. A little quirky offset always looks good too!
Don't have any googly eyes? Draw them on with a felt tip or a marker!
Light 'em up!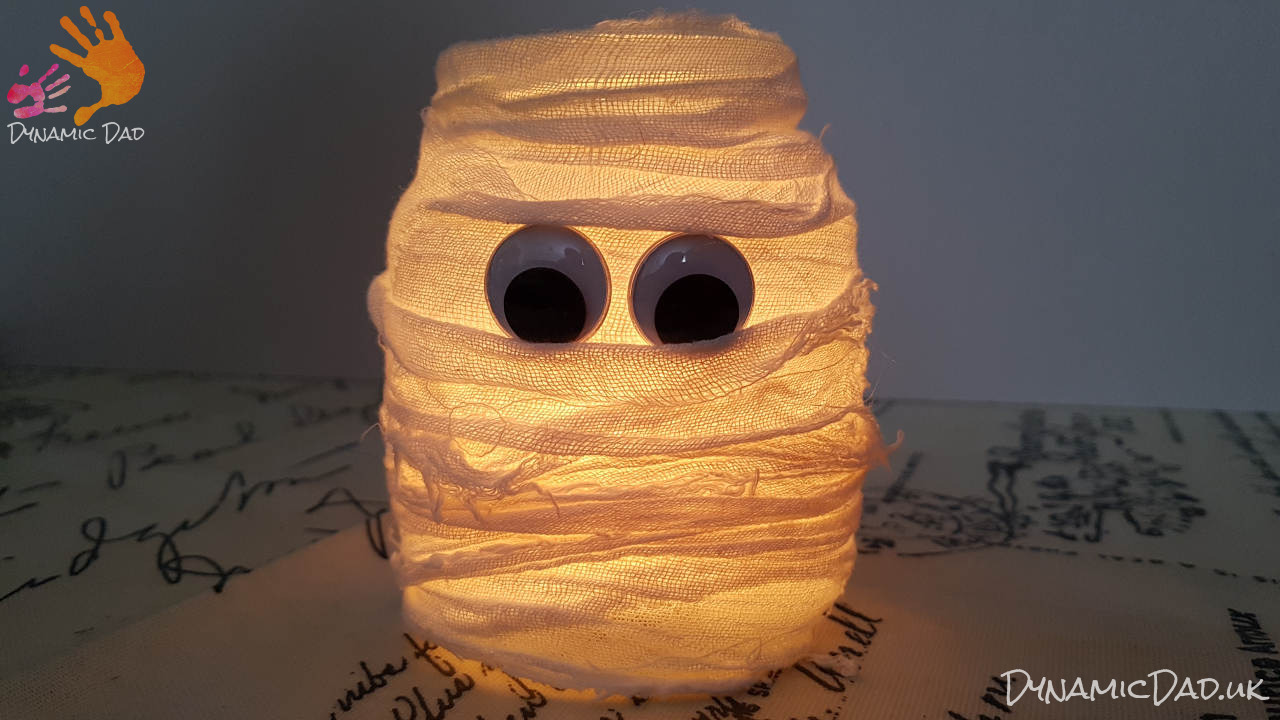 Pop in your LED Tea Lights or string lights and enjoy your custom, kid crafted DIY Halloween Mummy Luminaires
Like these? Check out my Activities & Craft category or my post with Dead Easy Halloween Crafts, and stick your details in the box below – I'll email you as I post more cool stuff like this!