Book Review (Childrens): The Inventing Tubes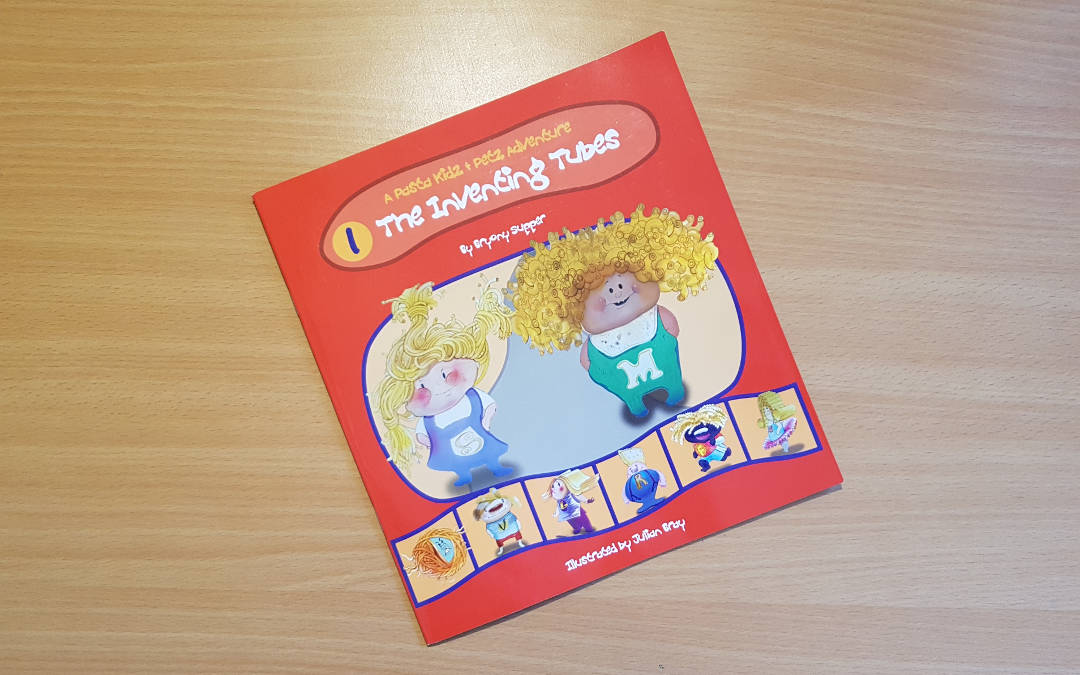 I was lucky enough to receive a copy of The Inventing Tubes, A Pasta Kidz & Petz Adventure from Bryony Supper to read and review with my daughter, Bean (7).
The Inventing Tubes is the first in a series of 12 adventure books, written and illustrated in the style of a kids TV cartoon series and I wouldn't be surprised if I saw it on the box in the next few years.
The Story
The story follows two characters who invent their own "pastaballs", one of which goes awry requiring the help of the Pasta Petz who come to the rescue. The book is well laid out, with large colourful graphics on one page and large, clear, well spaced text on the other. This meant reading was generally no problem for my daughter at all, while the pictures kept her engaged throughout too.
Educational Points
The Pasta Kidz have a language of their own, much like some other kids cartoons and the book opens with "Maca moodle mo!". It's not something I'm a fan of when spoken (think CBBC's Makka Pakka), but when written down it creates words that cannot be sounded out easily and encourages children to think about how to pronounce them. This is an important skill to master early on and well integrated into a fun book with silly sounding names and phrases.
For those who struggle to understand there is a good Pasta Vocab translation page toward the back of the book that tells you this phrase meant "Hello!". With that little extra context you could help pronounce it appropriately and integrate it seamlessly and amusingly into the story.
Reading through the book together, my daughter enjoyed the pictures which illustrated the story in the text well, as well as the cartoon style script. It was easy for her to follow the adventure and gave me an opportunity to test her comprehension and recall – an important part of her KS2 learning objectives.
Another aspect she particularly liked was the rhyming text & songs. I can't say this is in any way to do with my musical talents or entertaining style – I claim to have neither!
To my daughter the story was good, fun, and engaging enough for her to want to read it again on her own – all important features of a kids book.
Life Lessons
There are life lessons in the story that with a little help from you can really deliver. Sarah Spaghetti, one of the characters is "always impatient" and doesn't read the instructions. Marc Macaroni tells Sarah that she must be patient and this links to a comment later in the book about cheating too.
Sarah's impatience meant she wanted a ball to score goals for her – that's cheating, and not ok. When we discussed this my daughter could see that Sarah would have to learn to use the Inventing Tubes properly, and also to learn to play Pastaball before she could expect to be good at inventing or at scoring goals.
It was then easy to understand that learning takes time and effort, and patience, and that learning to do something is the best way to achieve the desired result – even when it relates to scoring goals in a fun game like "pastaball".
This is an important lesson for a child, and I'm pretty sure most of us struggle at some point with adding "yet" to screams of "I can't do it!", and encouraging our kids to try.
Extras
After the story the book contains some excellent little bonuses – I've already mentioned the Pasta Vocabulary, there is also a two page spread introducing the Pasta Kidz and Pasta Petz – characters that my daughter was very excited to see, as well as a colouring page containing the outline of the Pasta Beasties, who look suspiciously familiar.
Overall my daughter really did enjoy the book. So much so that while she was scribbling away on her own with her scratch art birthday present, she drew several of the characters from the story – with zero input, involvement or suggestion from me.
I'm sure that she'll enjoy the rest in the series just as much, and I'm confident that your little people will too. You can grab your own copy from Waterstones, Amazon or Troubador, where the second book in the series The Sorry Sticks is also available.

Disclosure
I received a free copy of the book for review purposes, all opinions are mine (or Bean's). I will receive a small commission if you purchase through the Amazon links above but this will not affect the price you pay.